Your Miniature Schnauzer Stories
Enjoy wonderful Miniature Schnauzer Stories from around the world from site visitors, just like you who absolutely love their Mini Schnauzer.
Miniature Schnauzers are way more than just dogs... they're pure canine perfection packed with personality galore! And here's your chance to tell us all about yours.

We invite you to share the joys of owning a Miniature Schnauzer by creating a profile for your dog. Your Schnauzer's story can include anything you like: Why did you chose the breed; Where you found your Miniature Schnauzer (dog breeder, rescue); Games your Mini Schnauzer likes to play: Your Schnauzer's favorite dog treats; Who your Schnauzer bonds with the most in your family;
Here's an example story of a little Miniature Schnauzer:
Living and Loving Life with a Miniature Schnauzer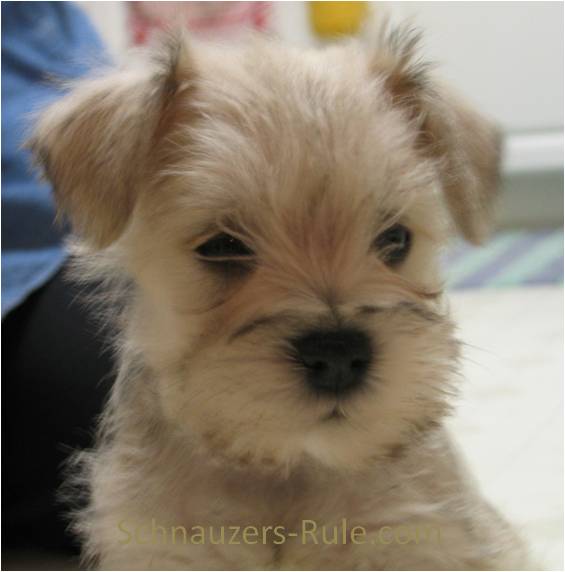 I have been waiting for the right time to add a dog to the family and decided on a Miniature Schnauzer because I read they were easy to train, did not shed, and wanted nothing more than to please their owners. Sounded like the perfect dog! And I was lucky enough to find a reputable breeder in my area so I went to view her puppies.

They were all absolutely adorable and super energetic and playful. I sat on the floor and was quickly covered with puppy kisses from them all. One little guy stood out in particular. I felt an instant bond and decided to purchase him. That was the best decision I ever made.

Many years have past now and I have a furry best friend. We go everywhere together and do everything together. My Miniature Schnauzer loves to go on walks and hikes. He enjoys playing games and learning new tricks and he's pretty good at agility, too. He's so good that he doesn't even mind having his picture taken or taking a bath! He's just perfect in every way.

I love to bake him wholesome homemade dog treats and he loves to eat them! I never knew just how complete one's life could be by adding a dog to the family. We all learn so much from each other.

In my heart and in my home.... Schnauzers Rule.
Let's see how many Miniature Schnauzers from across the world we can get to contribute to our dog forum. Tell all your Schnauzer-loving friends to come create a free web page and share their story & pictures here, too!

And if you own any other dog breed, cat, or any other type of pet and would like to create a free web pet page for them, you can do that here: Other Pet Stories.
NOTE: If your entry does not go live after 36 hours, it means you did not provide the requested information per the form and will need to re-submit a new entry. (ex. 150 words minimum) Google frowns on pages with little content, so we can no longer post entries with just a few sentences. And as you can see in our example, it's really not that hard to write a little story about your dog.
---
My Miniature Schnauzer - the Best Dog Ever!
Ready to tell us all about your perfect little furbaby?

Here's where you can share your Miniature Schnauzer's story, photos, and anything else you want the world to know about why you think your Schnauzer is the best dog ever. 150 words minimum


More Miniature Schnauzer Stories
Simply click on any of the links below to read other Miniature Schnauzer stories from visitors just like you!

---
Go from Miniature Schnauzer Stories to Schnauzers Rule Home page

Go from Miniature Schnauzer Stories to More Pet Tales