Mini Schnauzer Dog Care

Your Miniature Schnauzer relies on you for his basic dog care needs.
This includes: routine vet visits, dog grooming, dental care, daily exercise, proper nutrition, obedience training, mental stimulation, as well as, protecting your Miniature Schnauzer by following your jurisdiction's dog laws, and spending quality time with your furry companion.

By doing so, you know you've taken every step possible to ensure your Miniature Schnauzer's overall good health. And after all...
A healthy dog is a happy dog.

Basic Dog Care Needs
Routine Vet Visits – Have your Miniature Schnauzer examined by your

Veterinarian

annually. Your vet will check your dog's heart, lungs, ears, eyes, temperature, overall body, weight, etc... as well as check for heartworms and administer vaccines. Your vet will also answer all your questions and address any concerns you may have about your Miniature Schnauzer. Remember: Prevention is always the best medicine. 

Groom Your Dog - Miniature Schnauzers need regular grooming. Grooming your Schnauzer includes: bathing, trimming nails, cleaning ears, clipping your Miniature Schnauzer's coat, etc… Our

Miniature Schnauzer Grooming Series

addresses each one. 

Dental Care - As part of your Miniature Schnauzer dog care regimen, it's extremely important to perform at-home dental cleanings by brushing your Miniature Schnauzer's dog teeth daily. It's easy to do once you know how and daily routine oral care can help prevent your Schnauzer from developing periodontal disease.

Miniature Schnauzer Dental Care

 
Dog Exercise – A good dose of daily exercise plays a crucial role in dog care. Depending on your Miniature Schnauzer's age, a couple of daily walks may suffice. Others may need more exercise. Discuss with your vet the amount and type of

exercise your Miniature Schnauzer

will need to remain healthy. And check out your local

dog parks

for even more fun ways to spend quality time and exercise with your Miniature Schnauzer. 

Schnauzer Dog Health - Learn the

signs of a fit and healthy dog

as well as the

symptoms of dog illness

. You can help keep your Miniature Schnauzer as healthy as possible by paying attention to warning signals that may indicate there is a problem brewing. 

Dog Eye Problems - Learn the symptoms and treatments for the

10 most common dog eye problems

including cataracts, glaucoma, cherry eye, eye ulcers, etc.. And if your Schnauzer is blind or has limited vision, learn how to

help a blind dog cope

. 

Miniature Schnauzer Nutrition – Make sure to feed your Miniature Schnauzer

quality dog food

and perhaps even add supplements to your dog's diet to ensure proper nutrition. 

Dog Obedience Training – Another very important aspect in caring for your dog is training. Your Miniature Schnauzer needs to learn the

basic dog obedience commands

. Begin training your Schnauzer as early as possible ie, right away. Basic dog obedience will help keep your Miniature Schnauzer dog safe. 

Mental Stimulation for Dogs – Dogs need to be mentally challenged to be happy. They love to have jobs and figure things out. The ever-so-smart Miniature Schnauzer loves to be mentally challenged. You can add mental stimulation for your Miniature Schnauzer through

dog trick training

or game play.

Dog Laws & Being a Responsible Owner – Each city has its own ordinances and laws when it comes to dogs. Be sure you follow the laws in your locale. Being a

responsible dog owner

also means making sure your Miniature Schnauzer dog is always wearing his collar with proper I.D. and current rabies vaccinations, and adhering to

proper pet etiquette

. 

Love & Companionship – Most of us get a dog for love and companionship. Dogs are pack animals and need to have a sense of belonging and need a leader (you). Don't forget to spend quality bonding time with your Miniature Schnauzer dog daily. It is in fact, in your dog's mind.....
the most important part of his dog care regime.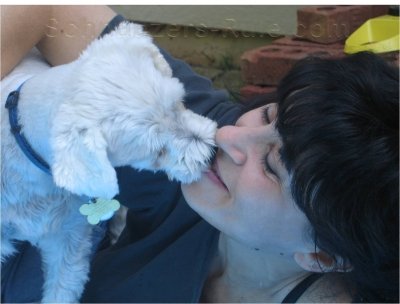 ---
Go from Dog Care to About the Miniature Schnauzer on Schnauzers Rule
Go from Dog Care to Miniature Schnauzer Grooming