Uno - Mini Schnauzer/Bichon Frise
by Mary Jo Bopp
(China Grove, NC)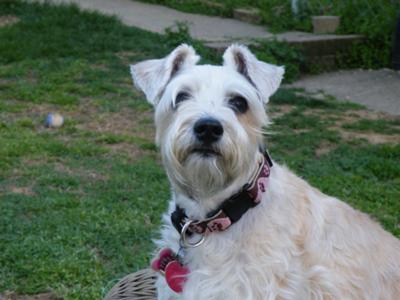 Who me?
Uno is the princess of the household. She rules over her 2 brothers most of the time. She is a Miniature Schnauzer/Bichon Frise mix.

She enjoys playing chase with whoever she can get to chase her around the house or yard, and will only play with toys if the other dogs want them.

Uno can play hide n' seek with the grandkids and can usually find them when they hide. She will get all excited if you start counting to ten and wags her nub in anticipation of finding her "kids"!

Uno doesn't give the usually doggie kisses, she actually puts her teeth together and tries to kiss you on the back of the neck...almost like she is biting your hair.

Uno is such a unique dog and the reason there are 2 other mini's living in our house!