My Sweet Jasper
by Anastasia
(Moreno Valley, CA, USA)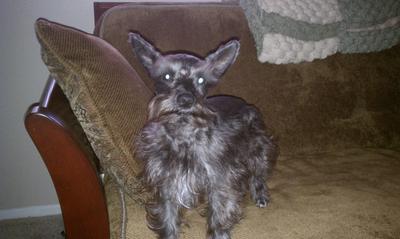 The best birthday gift I could have ever received came to me in November of 2011. My husband and I had patiently waited for the perfect lil pup, and we found just that in my sweet Miniature Schnauzer, Jasper. With a dark salt and pepper coat and big dark eyes he has brought joy and a sense of completion to our new family.

He is most playful and we thoroughly enjoy our daily walks together; watching him discover new things always makes me smile and its not unusual for him to make me laugh.

Although Jasper is a smaller mini Schnauzer he often fancies himself as big if not bigger than other dogs and has no problem standing his ground and acting as the ultimate protector.

Jasper's favorite game is tug of war (especially with my husbands socks) and he enjoys playing with my sisters chihuahua! They chase each other for hours around the living room as if to play "tag you're it!"

Jasper's grandma is also an admirer referring to him as her grandson and giving him delicious belly rubs! (He rolls over pretty quick for one of those, or two or three!)

I never imagined I could love a little puppy so much but he has made me realize how happy I can be and has brought out the protective motherly instinct in me!

My husband and I are expecting our first child later this year and I'm grateful that she has a wonderful companion here waiting for her. I'm certain my jasper will be just as protective of her as he is with me and I'll have lots of smiles and laughs watching them grow and play together!
Mini Schnauzers (especially mine) rules!!!