Homemade Dog Treats Recipes
Do you bake homemade dog treats for your Miniature Schnauzer? Do you have a special recipe your dog just flips for? If so, we would love to have you share your dog recipe with our site visitors, so they too can whip up a batch a goodies for the special Mini Schnauzer in their household.
These days, more and more people are baking home cooked meals and treats for their dogs. Why?

Well the reasons are many but for starters, those of us who remember and had pets survive through the massive pet food recall of 2007 need no more reasons to provide fresh untainted foods to our pets.

And even to this day, dog owners feeding commercial foods must stay tuned-in and up-to-date with all the continued FDA announcements of pet food recalls, market withdrawals, warnings and safety alerts:
FOR IMMEDIATE RELEASE: Consumer alert (brand name of item) has been recalled due to..... Potential salmonella contamination..., Potential of product to become moldy..., Elevated Vitamin D levels..., May contain propylene glycol..., Unapproved antibiotics found in finished product, and on and on...

It's enough to drive a pet owner mad! So at-home preparation provides a way to avoid potential health risks to your Schnauzer from contamination. Plus fresh meals in general, are a healthy alternative to store bought dog treats and foods that are also loaded with preservatives and other unhealthy ingredients.

Another good reason to prepare homemade dog treats for your Schnauzer is because you'll save money. Think about it. An average bag of dog treats costs about $5 for 12 oz bag. And with feeding recommendations of: Feed between meals as a treat, the bag doesn't last very long. Now make a batch of our dog biscuits from scratch. They costs a whopping $1.09 to make and if stored in the freezer, can last for months.
There is no delight in owning something unshared
If you prepare any kind of homemade dog treats or food for your Miniature Schnauzer... we would love for you to share your recipes with us here. And if you have any photos of the finished dish or of of your Schnauzer enjoying the goodies you baked, please load them up, too!

You know baking is a great family activity that's can be so much fun. So we would love to include kid-friendly meals that are simple enough for children to make. This way the whole family can get involved and I bet when you're done, your Miniature Schnauzer will thank you BIG TIME!
---
Your Dog Recipes
Do you have a special homemade dog recipe your Mini Schnauzer flips over? If so, we would love for you to share it with us! Please be sure to describe your recipe in detail (along with cooking tips and hints) so other Schnauzer lovers will be able to duplicate it for their dogs. 150 words minimum
More Homemade Dog Treats & Recipes
Click on the links below to view some of the great homemade dog treats and dog recipes submitted by site visitors, just like you.
---
Homemade Dog Treats for Valentine's Day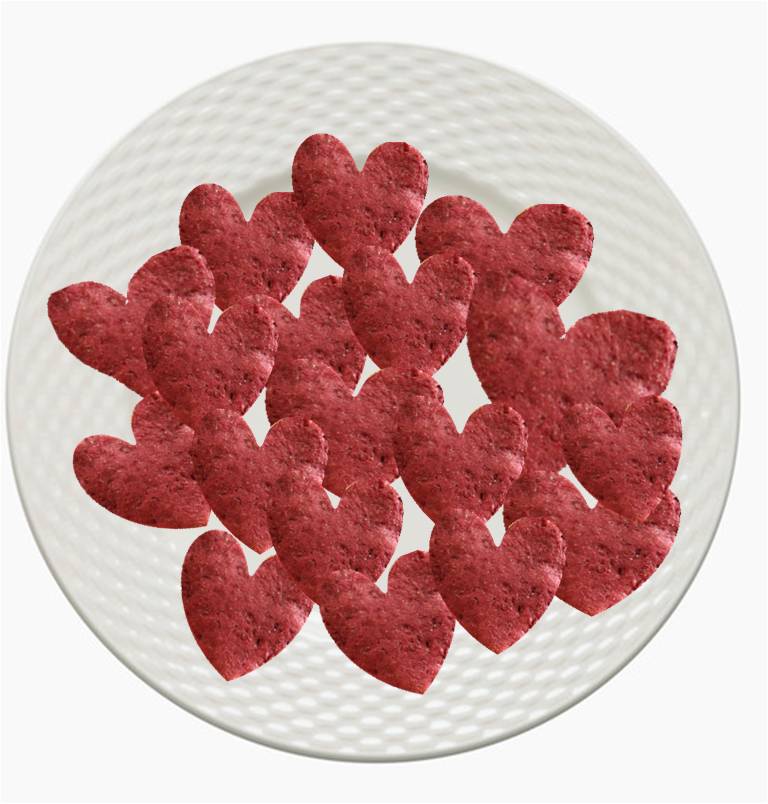 Here's a delicious and nutritious dog cookie you could make for your Miniature Schnauzer on Valentine's Day. They are super easy to prepare and just one more way of expressing your love.

• 1 cup whole wheat flour
• 1 cup wheat germ
• 1 ripe banana mashed
• 1 egg
• 1/2 cup beet juice (if using canned juice buy no salt added can of beets where ingredients listed are only beets and water.)

DIRECTIONS: In a medium bowl whip egg. Next, add the whole wheat flour, wheat germ, and mashed banana. Continue to mix while slowly adding the beet juice (use more or less to form proper consistency). Roll dough into small 1 inch balls and place on slightly greased cookie sheet. Flatten balls slightly with a fork. Or if you want to use a heart-shaped coolie cutter you can create heart-shaped treats for your dog. Bake for 20 minutes at 350 degrees.

Your Schnauzer will jump and spin around for these yummy cookies.
---
Go from Homemade Dog Treats to About the Miniature Schnauzer on Schnauzers Rule

Go from Homemade Dog Treats to Dog Recipes

Related Topics:
★ Why You Should Consider Preparing Your Schnauzers Meals
★ Your Dog Craft Projects
★ Homemade Dog Food Tips