Miniature Schnauzer EBENEZER
by Karen Gallagher
(Sebastian, Florida USA)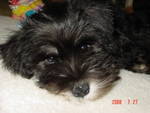 Ebenezer's first day at his forever home!
Ebenezer, our darling little black and silver mini, came to our home in July, 2008. He was just 8 and a half weeks old when we got him. He was a clean and healthy little guy. Our Vet checked him out and gave him a clean bill of health. She told us all about Mini-Schnauzers and we have been following her guidelines ever since.

The story behind our getting this little guy goes something like this. A friend of a friend inquired if anyone wanted a new puppy. So, they contacted us to see if we, or anyone we knew would want a mini-schnauzer. I thought about it for a day, (could hardly contain myself until I got home) and asked my husband that evening, and the rest is history.

Ebenezer's birthday is on May 22, 2008.

Ebenezer likes watching the Western channel (horses) and loves Football season on TV. He gets to go to the dog park and play with the "big dogs". He gets homemade doggy treats. He also has his favorite toys (the squeeky ones) and his favorite blanket! He drags it around the house like Linus in the "Peanuts" cartoon!

And, most of all, Ebenezer makes us laugh everyday and we love him.