Mini Schnauzer Dog Names

If you're looking for dog names for your new Miniature Schnauzer we have some for you right here! Plus we offer up some great suggestions and tips to help you narrow down your list so you can choose the perfect one.
You finally found the perfect Miniature Schnauzer to be your very best friend and loyal companion for a very long time. Now, you just need the perfect name to call your new furbaby.
But which one?
This, of course, is a totally personal decision..... but if you need some help, check out these Miniature Schnauzer boy names and Miniature Schnauzer girl names on the next few pages for you, as well as some useful hints below, to consider when choosing your new puppy's name.
There are lots of great Miniature Schnauzer puppy names to choose from... What name will you choose?
Tips for Naming Your Dog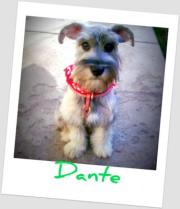 Here are 7 tips to help you choose a perfect name for your new Miniature Schnauzer.
These tips are meant to help guide you or simply give you ideas. You can of course, name your dog anything you like.
For example, if Zucchini is your favorite vegetable, or if Malibu is your favorite beach, or if the Ruby is your favorite gemstone, you might just want to use one of these as a dog name. And that's okay.
There are no rules, or rights and wrongs when it comes to this. So have fun with it.

Best advice, just choose a name that you really like and will really like calling out loud.

Sex of Schnauzer
- This is of course obvious... choosing a male name for a boy dog and a female name for a girl dog, but there are also unisex names you could consider.
Try multi-syllable names
- Dogs usually respond better to multi-syllable names, like Jackson or Rita instead of Bo or Pearl.
Command sounding names
- It's probably a good idea to stay away from names that are similar in sound to one of the basic commands your Miniature Schnauzer will soon be learning. (which include: sit, stay, come heel, and down)

for example: If your Miniature Schnauzer is named Ray or Kay, your dog might be confused when hearing the command STAY.

Physical Characteristics
- Use any special markings or physical features that your Schnauzer may possess to help choose a name.
Dog's Personality
- Observe your new puppy for a few days and see what his personality is like. For example, a super playful Schnauzer could be named Zippy or a constant barker could be named Braggart.
Involve the entire family
- Get everyone in your home to help come up with some names for your new Schnauzer. By making it a family decision, you'll rest assure that it's a name the entire family likes.
Endless possibilities
- There are just so many different sources you can use to get inspiration for your Miniature Schnauzer's name. Here are some examples: comic book heroes, city names, celebrity names, names of famous designers, artists, cities, and the list goes on and on.
Just remember whatever dog name you choose for your Miniature Schnauzer, you will be using it quite often each and everyday, so be sure to choose one you really like and that your Schnauzer responds to easily.

And finally, after deciding on a name for your new Miniature Schnauzer puppy, make sure to use it often and with a sweet tone.

NEVER use your Schnauzer's name when reprimanding or scolding him but....

ALWAYS be sure to use it when you praise him, play with him, hold & cuddle him, and command him.
Okay... Ready to explore some Mini Schnauzer Names?
Search Schnauzers-Rule.com
Custom Search
---
Go from Dog Names to About the Miniature Schnauzer on Schnauzers Rule
Related Topics:
★ Send Friends Free Dog Ecards
★ Create a FREE page for Your Miniature Schnauzer