The Lovely Alice
by R. McClanahan
(Washington)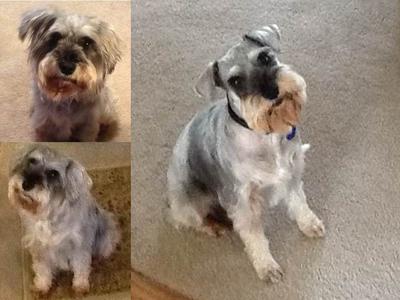 Alice before and after
When my Father passed away, my wife, myself and my Mother decided that we would all move in together. My wife and I still work and always felt that it would be unfair to a pet (dog, cat, bird, whatever) to have to be at home alone all day. When a friend at work asked if I would be interested in Alice, I talked it over with my wife and Mother. It was agreed we would take Alice, because Mom would be there and they would be good company for each other. My wife and I would enjoy the dog in the evenings and on weekends.

Sometimes you accidentally make the best decision of your life and boy did we ever this time!! Alice came to us in a slightly disheveled condition, not that she had been abused but had been one of three dogs and two cats craving the attentions of one person. We took her to the vet and had her spayed, a tooth cleaning, treated for a skin infection, updated on all her shots and professionally groomed. She adapted to us immediately and has become the loving central member of our family, one dog with three people lavishing attention on her.

With Mom, Alice has an all day companion and is never left alone. Alice sleeps in our bed at night. She snuggles and hugs each of us in turn every evening. She travels with us and has been to Canada for a visit with my Uncle and Aunt!! I have only had two other dogs and loved them both, but never one as smart and loving as Alice.