Wicket
by Madison
(Fresno)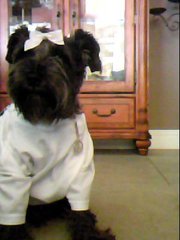 Wickets dress up day
Wicket is a little cute, fun, loving, little ball of energy. He loves making new friends & will never give up on his family. If you were to meet him you can tell he knows he is loved & safe with his family. I have never met anyone who liked him or who haven't laughed, smiled, or giggled to one of his stories. Here are some of his stories.

At winter time when he's cold he will come up to me shiver & whine so I'll know he wants one of his sweaters. When I then come out with one he will sit & lick you as a thank you when his sweater is on. He also loves to be groomed & goes crazy when its walk time. He has a habit of pulling his leash like he's walking himself when he gets impatient from waiting to long. When it's time for his walk I will give him his leash to take to the door while I put on my shoes.

Wicket also enjoys playing hide & go seek. It's one of his favorite games next to playing ball & chase. He is also a good dog with cats. He loves all 6 of our cats company. Wicket also loves sleeping with pillows & when it's cold, blankets. One night I forgot to give him a pillow & wake up to find my pillow slipping from under my head. I then rolled over to see Wicket is trying to take my pillow as his own. I told my family the next morning to find not only the biggest amount of comments I have ever gotten on FB but to have a good laugh.

There was also the time I slept over at my grandparents with my little sister, 2 of my little cousins, & Wicket. Me, my sister, & one of my cousins slept on the pullout in the couch & my other cousin slept with my grandparents. When my grandma woke up early in the morning to go to work she found that Wicket had crawled into the sleeping bag my cousin was suppose to sleep in & had rested his head on the pillow.