My little "Pumpkin Bear"
by Ashley
(Columbus, Ga, USA)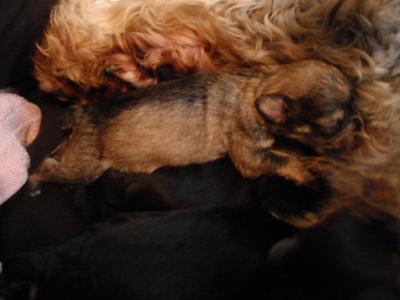 my daughter is the light colored one
I had a friend whom I had met when I moved back home from college, and she told me about her grandparents who lived in the town I went to college in and I actually knew them because we went to the same church. She and I kept in contact via Facebook. One day out of the blue she posted photos of some puppies that her grandmother's schnauzers had just had. Well, for me it was love at first sight! I immediately picked out my little girl and named her and so they started calling her by name from the first week of her life!

I waited for five weeks, and I just couldn't take it any longer, so I drove an hour away just to play with my little girl. They told me that I couldn't take her just yet, but she was mine! And so on Valentine's Day I got my little pumpkin bear! She is the absolute love of my life! I don't know what I'd do without her!

About a year after I had my sweet little girl, my friend informed me that her grandmother was giving away one of the boys from the same litter as my little one. I was thrilled! I immediately called her and told her that I wanted him! They were very excited to have me as his mother and to reunite their little one with my daughter!

My son and daughter are so close.. I call them the ying-yang twins. My daughter is white/grey and my son is salt/pepper and whatever one of them does, the other does the same thing.. They walk side by side and sleep that way too. It's so funny. You would think they had been together every day of their lives. They are so concerned with each other.

This past Christmas, my son was involved in an accident and I stayed up with him all hours of the night taking care of his wounds and keeping my daughter from hurting him with her curiosity. She was so concerned with him. When they were finally able to play together again, she spent the first ten minutes just licking his face. It made me cry.

I am so blessed to be a schnauzer mom! They are the true joys of my life. I'm sure when I have children I will love them more than my puppies, but right now, I can't imagine loving anything more than my two rugrats!