Mini Schnauzer Packer Backers
by Danka II
(Gilmer, TX)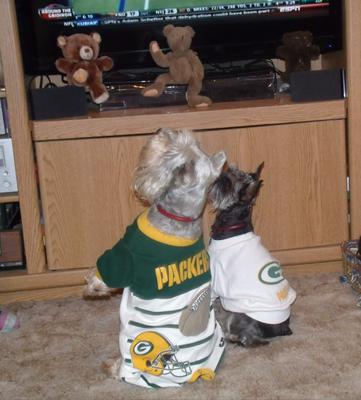 Did you see that one?
Danka II / Shayna Packer Backers

My step sister and I live here out in the country, just outside Gilmer, TX, Mom & Dad are Wisconsin transplants, Sooooooooooo, Shayna and I are Packer Backer, Bratwurst, sauerkraut eaten Cheddar heads true and blue. I think though that our other step sister is a "Cowboy" fan, no counting for Yorkie taste.

Mom and Dad went to their friends house to watch the Packers play the Bears the other day.....We couldn't go but they left the T.V. on so we could watch at home. They said they would bring home some goodies for us and did.

This is really my first foot ball season. Last year I was too small to really care. But this year I'm going to help Dad root for OUR Team the Green Bay Packers. I even got my own Packers T-shirt. The full Packer Suit that belonged to my name sake Danka is too big for me to wear so Shayna got it and I got the T-shirt. You see I'm really a "Toy" miniature Schnauzer and those big dog clothes don't fit so good. I don't really care just so dad and I can be together.

Read more about us here.
Join in and write your own page! It's easy to do. How? Simply click here to return to Miniature Schnauzer Stories.