My First Dog Ever...The Best Dog Ever
by Stephanie S.
(Ankeny, Iowa )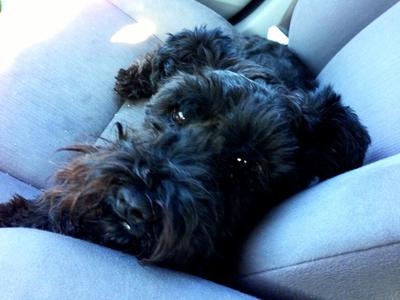 Riding in the Car. June 2013.
Our Mini Schnauzer Kipton:

On February 26, 2011, my son (6 yrs old at the time) and I drove across Iowa to pick up our newly adopted black mini schnauzer, we named Kipton.

Kipton has turned out to be such a source of joy in our lives. He's been with me through some very tough times and he is such a good friend and fur brother to my son. He is such a little love sponge.

Kipton is super friendly, very active, and just loves people. He also likes playing with the other dogs at dog daycare and he really loves going for long walks.

I was nervous to become a first time dog owner, but now I can't image life without this silly little pup. We just love him so much. Kipton is our first dog ever and has turned out to be the best dog ever.