Miniature Schnauzer Sabrina
by Dolores Lawson
(Ocala, Florida)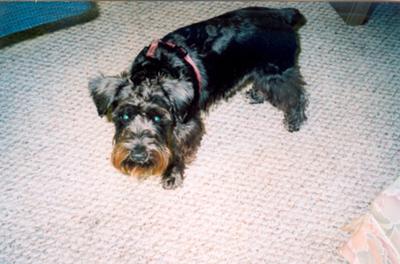 Sabrina at the age of 1
Sabrina was born on March 23, 2004 in Killeen, Texas my nephew gave her to us and she has been residing with us in Ocala, Florida ever since we got her from my nephew as a puppy. She is a black schnauzer and so loving.

Sabrina is completely housebroken on her own never gives us any trouble. However, a couple years ago got an acorn stuck in her smaller intestine and it cost a fortune to get her operated on and my husband saved the acorn painted it gold and calls it Sabrina's Golden Acorn.

Her only thing is she is a barker. Sabrina loves to have her ears rubbed and sit in your lap. She loves her fursister Abigale June even though she is a different breed. Sabrina lets us know when Abigale June is doing something she is not suppose to be doing. Sabrina's favorite snack is a milk bone biscuit and her favorite toy is a red bow that squeaks. She hates to be bathed and groomed especially her nails.