Miniature Schnauzer Grooming Chart

The Miniature Schnauzer grooming chart below shows the basic steps for grooming your Miniature Schnauzer pet. I want to emphasize the word pet because, although the cut may appear to be show quality, it is not.
*** Show quality Schnauzers require hand stripping of the coat.
Click on the image above if you would like to download The Miniature Schnauzer Grooming Chart, by Schnauzers-Rule.com to use as a handy reference.

How to Groom Your Mini Schnauzer
Start by brushing your Miniature Schnauzer out thoroughly. You will want to make sure your dog is free of mats and tangles before beginning to clip or cut the hair.
Using #8 or #10 blade begin moving clippers downward from the base of the skull to the tail.
Follow the pattern in the diagram above, clipping downward on either sides of your Schnauzer's body to just about an inch above the hocks.
When clipping the top of the skull, cheeks, and throat, gently move the clippers against the grain being careful not to apply to much pressure.
Continue clipping downward on the chest area stopping just at the shoulder blades.
Using scissors, shape legs, underbody furnishings, and tail, as above.
When trimming the Schnauzer eyebrows and shaping the beard, face your dog and comb hair forward. Cut a straight line to the outer corner of the eye. Don't remove too much of the beard but do trim it up a bit also.
Don't forget to pluck out the excess ear hair (See Dog Ear Cleaning)
And also Trim up those nails! (See Cutting Your Dog's Nails)
Follow our complete Miniature Schnauzer Grooming Series and you will learn how to groom your Miniature Schnauzer at home for those in between dog grooming visits or all the time!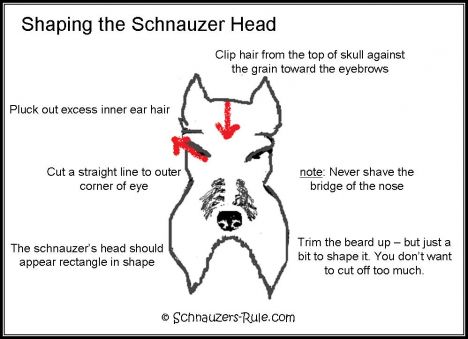 Schnauzer Grooming Tips
Here are just a few more points to keep in mind when grooming your Schnauzer:
Be sure you have a safe, comfortable, and well-lit area to work.
Although you'll want the hair short, some length is desired (at least 1/8 inch). How much hair remains on the body depends on the amount of pressure one applies while clipping.
Be careful when trimming and clipping the ears as they bleed easily.
Brush hair on legs in an upward position before using scissors to trim them.
Bathe Schnauzer after a complete grooming. This helps to remove any loose hair and will have your dog ready to strut his stuff.
Keep coat looking neat by clipping your Schnauzer every 6 weeks. During the winter months, keep your dog's coat a little longer and just trim up areas needing attention.

Groom (i.e. brush, trim nails, etc.) and bathe your Schnauzer between full body cuts.
Search Schnauzers-Rule.com
Custom Search
---
Go from Schnauzer Grooming Chart to About the Miniature Schnauzer on Schnauzers Rule
Go from Schnauzer Grooming Chart to Miniature Schnauzer Grooming