You can't have just 1 Schnauzer
by Debra Dempsey
(Salem, KY)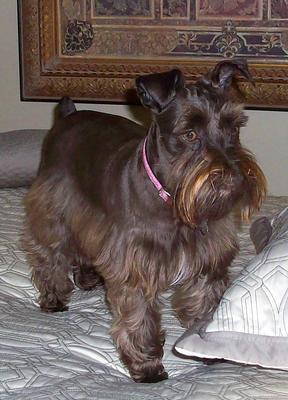 You can't have just 1 Schnauzer.... Double Love at our house!

Mali Elizabeth and Demi Shae are the best of friends! They love to greet each other every morning with kisses! It is too cute!

I have owned Schnauzer's for over 20 years and cannot imagine my life without one. They love to play ball, get the toilet paper out of the trash and of course eat! I think I would question whether or not they were schnauzers' if they did not like the bathroom trash and pulling the toilet paper off the holder! I would bet there are a lot of smiles by those reading this right now if they are a proud parent of a schnauzer. They also love, love, love company and are great with babies and small children. I am often amazed at what they will allow my 2 year old grandsons to do to them.

Of course, their favorite pass time is laying on mom or dad! Second, it would be knowing I am cooking their food. They stand in the kitchen watching me and literally jump up and down, you can see the excitement and appreciation in their eyes. They are very very spoiled!!

We are blessed by them daily with unconditional love. Our lives would not be complete without our doggies! Our home is just not complete without a schnauzer!