Our Smart, Gentle, Funny Schnauzer Boy.
by Jay
(Auckland, New Zealand)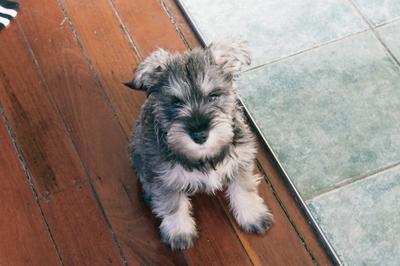 Harry on the first day he came home with us - 11 weeks old.
My husband has been allergic to dogs since he was a child. I am the completely opposite, having grown up with dogs my entire life. My number 1 goal once we were married was to find a dog that we could own, that wouldn't cause my husband any pain or suffering!

We were invited to a dinner party one night, and there was a miniature schnauzer x present. I didn't even know what kind of dog it was at the time, and did a lot of Googling when I got home because for once, my husband had NO reaction to the dog at all! Could we have found the perfect breed for us?!

I found the Schnauzers-Rule website, did a lot of research, and found a reputable breeder. Within two weeks, we had Harry, a beautiful 11 week old salt and pepper miniature schnauzer.

Harry is now 1 year and 3 weeks old, and I cannot imagine life without him. People stop us on the street to ask about him, and I recommend owning a Schnauzer to all of them. He is intelligent, gentle, inquisitive - I've not met a single person who dislikes him. The vet raves about how well-behaved he is!

He is just such a beautifully natured dog, and I imagine, some time in the future, we will consider getting him a play mate as well, because as far as I am concerned, there are no down sides to owning a Schnauzer!