Miniature Schnauzers Alex and Hayden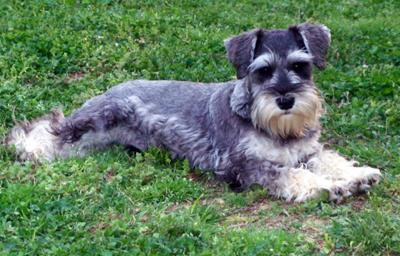 Miniature Schnauzer Alex
Alex and Hayden are two wonderful additions to our family. We have such fun together, especially at the park! They are brothers born on October 3, 2009 in Trenton, Georgia. We adopted Alex and Hayden just days after losing our precious mini, Albert at the age of six. It was a devastating time right before Christmas last year. They have helped to heal a truly broken heart. Pure joy comes along with these two fun, rambunctious and very lovable boys.

Alex barks at everything that moves, including butterflies and pool vacuums. I really think he's protecting us with all he has. We call him "Alex the Avenger"! Alex thinks our son, Randy, is a rock star for some reason. He actually screams when he comes to the door...very funny!

Hayden has one ear that stands straight up - very cute. He has a studious side to him. You can see his mind working as he cocks his head to the side. Hayden can climb or jump onto anything, including our poolside table. Ugh! We call this one "Cat Hayden".

We love them both very much. They are a blessing to have, hold...and yes - CHASE!