Dog Jokes & Stories
Ready to laugh? Then you're ready for these dog jokes and funny dog stories.
Our Miniature Schnauzers bring us so much joy and laughter every single day... whether we are playing with them or just watching them do something silly, our Schnauzers make us laugh.
And after all... laughter is the best medicine.
So, in honor of our Miniature Schnauzers and all dogs around the world, sit back and enjoy some dog jokes & stories about dogs and the funny things they do. Be sure and share them with family & friends! And keep smiling.
Funny Dog Jokes & Dog Poems
• Puppy Don'ts - Humorous Things a Puppy Shouldn't Do
• Top 10 Reasons it's Good to be a Dog
• Miniature Schnauzer Dog Rules of Ownership
• Dog or Cat? Which Do You Prefer?
• The Dog's Diary and The Cat's Diary
• Top 10 Reasons Dogs are Better than Kids
• Why Dogs are Better than Men
• W-K9 Individual Pet Tax Return
More Dog Jokes & Funny Dog Stories
What's a Cauliflower?
What do you get when you cross a Sheepdog with a rose? (Answer) A Collie - Flower!!!
Mini Schnauzer Humor

You know you've waited too long to find a mate when... You think stripping is something you do when grooming your Mini Schnauzer.
Fire Hydrant
The liquid on the INSIDE of a fire hydrant maybe H2O
But the liquid on the OUTSIDE of a fire hydrant is K9P
The Seeing Eye Dog
A guy walking his Chihuahua sees another man entering a bar with his Golden Lab & overhears the bartender say........ "You can't bring that dog in here!"

The man quickly replies... "This is my seeing-eye dog."

"Oh man," the bartender says, "I'm sorry. Here, the first drink's on me." The man takes his drink and goes to a table.

So the guy watching all this figures he could do that too. So he walks into the bar with his Chihuahua and the bartender says... "Hey, you can't bring that dog in here!"

The second man replies... "This is my seeing-eye dog."

The bartender answers back... "No, I don't think so. They do not use Chihuahuas as seeing-eye dogs."

The man pauses for just a split second and replies .....

"WHAT?!?! They gave me a Chihuahua?!?"
The Talking Dog
A man decides to take his dog to a talent agency because he swears his dog can talk. The talent agent decides to interview the dog and it goes something like this...........

Agent: What's on top of your house?
Dog: ROOF

Agent: What's the outer layer of a tree?
Dog: BARK

Agent: Who was the greatest baseball Player?
Dog: RUTH

The agent exclaims: This is ridiculous... And sends them away. When they get outside the dog looks up to his owner and says...... What? Should I have said DiMaggio?
The Dog and the Stranger
There's a man sitting on a park bench and a dog sitting beside him. A stranger passing by asks the man..... "Does your dog bite?"
"No" the man answered. So the stranger bends down to pet the dog and the dog bites him!

"I thought you said your dog doesn't bite???" the man exclaimed. And the other man replied:

"That's not my dog!"


Dog Obedience School
During break time at dog obedience school, one dog said to the other...
"The thing I hate about obedience school is you learn ALL this stuff you will NEVER use in the real world."


Wife or Dog...
Okay, this is a dog joke... ie. don't try this at home.

To prove that a  dog is truly man's best friend... a husband takes his wife & his dog and locks them both inside the trunk of his car for 30 minutes.

When he returns and releases the trunk open, guess who was still happy to see him?

Well - it wasn't the wife! LOL!
Best SINGLES Ad ever printed!

Single Black Female seeks male companionship, ethnicity unimportant. I'm a very good girl who LOVES to play.... I love long walks in the woods, riding in your pickup truck, hunting, camping and fishing trips, cozy winter nights lying by the fire. Candlelight dinners will have me eating out of your hand. I'll be at the front door when you get home from work, wearing only what nature gave me.

Call (404) 875-6420 and ask for DAISY. I'll be waiting.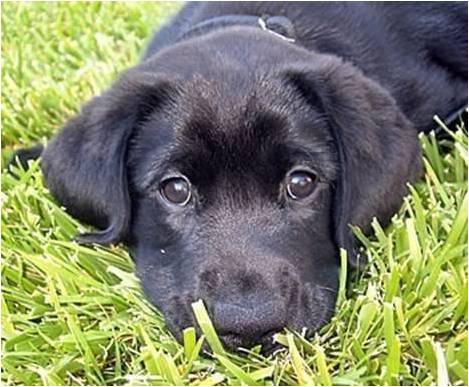 Over 15,000 men found themselves talking to the Atlanta Humane Society! Now That's FUNNY!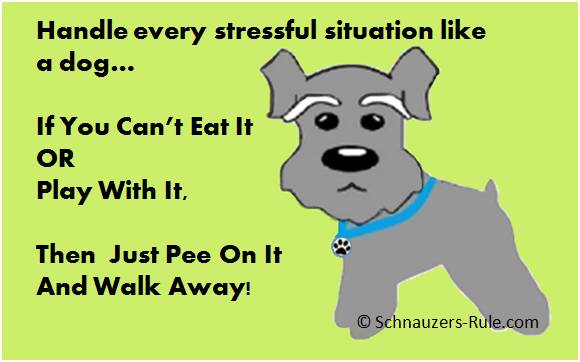 Please note: All dog jokes listed are non-copyrighted material found from the internet. If you have information otherwise, please contact us with the dog joke and correct ownership so that we can either remove it or give proper credit to the author. Thank You.
---
Do you know a funny dog joke? Share it with us!

Schnauzers-Rule.com is a family friendly site so be sure to keep all jokes suitable to be read by all age groups. Thank you! :)

---
Go from Dog Jokes to About the Miniature Schnauzer on Schnauzers Rule