Miniature Schnauzer Blog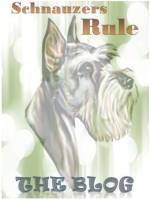 Our Miniature Schnauzer blog is the easiest way to keep updated on all things Schnauzer. By subscribing, you'll be sure to never miss important dog information, dog news, dog tips, and new articles posted onto Schnauzers Rule and that includes newly published Schnauzer stories and photos submitted by our own site visitors, just like you.

That's right, every time you contribute a story about your Schnauzer, pay tribute to a loyal companion that's crossed Rainbow Bridge, share a favorite dog recipe or craft project, your contribution becomes part of this blog for others to read and enjoy! See the many ways you can participate with us by visiting Miniature Schnauzer Fun.

To subscribe to the Miniature Schnauzer blog, simply click on the orange RSS button located on the left, just under the navigation bar, and follow the instructions. That's it! If you are unfamiliar with RSS, please read How RSS works to learn more. It's easy and fun. AND you'll never miss a thing. Aroo!

---
Mini Schnauzer Articles & News
Just Jack
Jack is 5 years old and joined our family a year after we had gotten his sister Pepper. They are half siblings and couldn't be more different than if