Rebel, Benji & Rambo
by Michele
(Dorset)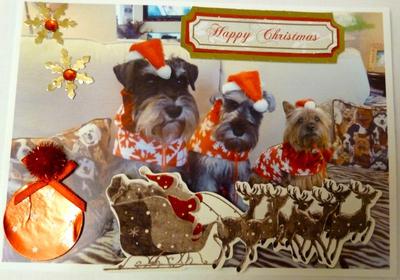 We are Santa's Little Helpers...
Firstly .. Rambo is an Australian Silky, and 10 years old, but Rebel age 5 & Benji age 19 months are mini schnauzers.. they are loveable, playful, trustworthy, and loyal but rather mischievous too.. I wouldn't be without them. they fill my void having lost my hubby in 2011..

They love jumping the jumps I've set up in my garden, especially Benji.. here are some photos of them.. Both my schnauzers sleep on my bed, so I don't need a hot water bottle, but Rambo prefers to sleep and snuggle up in his cozy fleecy bed...

Happy Christmas to all Schnauzers and their owners, from Rambo, Rebel & Benji.. their mummy ( me ) designed this card.. also one of my boys after their agility training...

You can read more about us right here: Benji & Rambo Santa Helpers
Join in and write your own page! It's easy to do. How? Simply click here to return to Miniature Schnauzer Stories.