Pet Insurance
Do you really need pet insurance? Nowadays, many dog owners are pondering this very question. The good news is due to advancements in treatment and care, our pets are living longer. So exploring health coverage and other ways to minimize your Miniature Schnauzer's pet care costs, is probably a good idea.
First , let's remember to do everything we can (short of playing doctor, of course) to keep our Miniature Schnauzer's healthy:
Keep your Miniature Schnauzer fit & trim - Measure out food portions, so you don't overfeed your Miniature Schnauzer, and work in a daily exercise routine. A brisk walk or a game of fetch should do nicely.
Keep treats to a minimum - Most Miniature Schnauzers have a tendency to gain weight, so don't over indulge your Miniature Schnauzer with too many treats. A good treat for your Miniature Schnauzer, which is also low in calories, is green beans or other fruits and vegetables that are considered safe for dogs! Be sure and use fruits and veggies that are fresh or frozen. Canned foods contain too much salt, sugar and other preservatives!
Add supplements - Adding nutritional supplements like probiotics & enzymes is a good way to help with digestion and boost the immune system of your Miniature Schnauzer. Ask your vet about it!
Keeping your Miniature Schnauzer healthy is the best way to avoid costly vet bills. However, even the healthiest dog will eventually need more care as they age.
Therefore, having dog insurance can provide you with the ease of mind that veterinary care and costs won't dictate your decisions when it comes to the needs of your Miniature Schnauzer.
Important When Considering Pet Insurance
5 things that are taken into consideration which will affect the price of healthcare plans for dogs:
Age does matter: Buying coverage when your Miniature Schnauzer is young, is less costly.
Outdoor lifestyle: If your Miniature Schnauzer is mostly outside, or participates in lots of sporting activities, he's probably at a higher risk for injury.
Licensed Company: Make sure the pet insurance company you decide on, is licensed in your state.
Doctor Choice: Find out if you can choose your own Vet or do you have to select a Vet from one they provide.
Coverage: Find out what's covered in their program: routine care & vet visits, illnesses, emergencies, prescriptions, etc... When the need arises, having pet insurance is a good way to have available the funds necessary when facing those unexpected veterinary costs.
2 Popular Companies

Embrace Pet Insurance is one of the nation's highest-rated pet insurance companies. You can use any Vet, plans cover genetic conditions, actual Vet bill used to calculate refund, tailor plans to fit your budget, and more!

Petplan Insurance (Gopetplan) - provides comprehensive coverage from diagnostic testing to specialized treatment and beyond. With affordable, flexible plans to fit any budget and their Covered for Life guarantee, find out why pet parents are choosing Petplan.
---
Stop for a moment and consider these facts...
• One in three pets will need emergency veterinary treatment every year.
AND
• Two out of every three pets will experience a significant health problem during their lifetime.
Knowing these statistics makes it a wise decision to at least explore all your options on coverage for your Miniature Schnauzer.

You can't predict what will happen in the future. Don't you owe it to your Miniature Schnauzer to be prepared? Get Answers. Get the Facts.
Another great way to save on your Miniature Schnauzer's pet care costs is to buy your prescriptions from companies that offer discounts!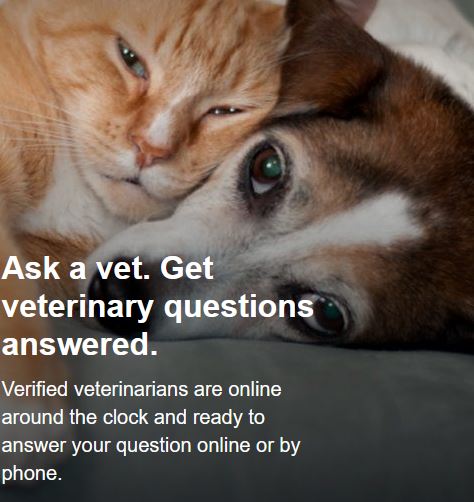 It can be hard to decide if a pet needs to visit the vet, especially as it can mean trauma for your pet to travel, and weekend and late-night questions create special problems. The veterinary experts on JustAnswer are available any time, and can provide diagnoses, guidance and advice.
Get an answer back from a Vet or Vet Tech (often within minutes). Experts on call to answer your questions every day, at all hours when you need them most!  

What an easy and fast way to get a second opinion from a dog expert! PLUS its 100% satisfaction guaranteed!
note: In the event of a medical emergency, contact your vet or emergency pet hospital immediately.
Search Schnauzers-Rule.com
Custom Search
---
Go from Pet Insurance to About the Miniature Schnauzer on Schnauzers Rule
Go from Pet Insurance to Dog Health
Related Topics:
★ Dog Care
★ First Aid for Dogs
★ Miniature Schnauzer Health