Our Elsa
by Cathy N
(Omaha NE)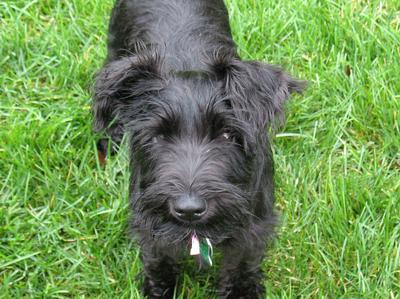 My name is Elsa, what's yours?
We have had 3 miniature schnauzers over the years and have loved them all. Our current one is a black female, 5 years old, named Elsa Rose. She is a hoot! She shares our house with 2 male Scotties and she is most certainly the boss of them.

Elsa is a very cuddly dog, which balances out the aloofness of the Scotties. She is very smart, as schnauzers tend to be, and has earned a Canine Good Citizen designation from the AKC. Of course she almost failed the last piece of the test – the part where she had to be quiet for 3 minutes while I left the room. She did not want to lose sight of her mama!

Right now we are battling bladder stones and how to keep them at bay. She has had 2 surgeries to remove stones. We are using a special diet, no treats (other than her special food), cranberry pills, pro-biotic powder with meals and lots of water. Hopefully we will have success.

We love our Elsa!

Join in and write your own page! It's easy to do. How? Simply click here to return to Miniature Schnauzer Stories.