Miniature Schnauzer Treu Kobi
by Mary
(West Virginia)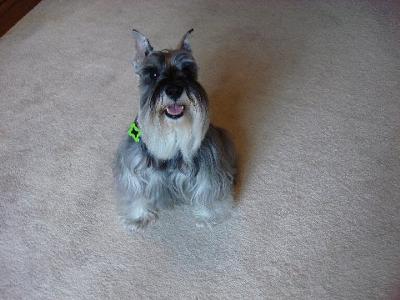 Miniature Schnauzer Treu Kobi
My Schnauzer is absolutely the greatest Schnauzer alive!

He is now 12 years old and we have been through a lot lately. Last December,(2009) he was diagnosed with an embedded stone in his urethra, and another one in the bladder. He came through emergency surgery great as he has an exceptional Vet, Dr. Mark Ayres.

We had planned to go to Canada in June of the following year and I noticed he was drinking an unusual amount of water and voiding more. I took him to Dr. Ayres, and he now has diabetes. It has taken a while adjusting his insulin of twice a day ( now on 1.4 units of Novolin N Human insulin) but he is fine, full of vim, vigor and vitality. Dr. Ayres is still being cautious with him and testing ever two weeks. I also check his pH ever week as he is on potassium citrate 7.5 mEq twice a day.

He is taking Upsher brand Extended release tablets in Greenies chicken Pill Pockets. His special food is Purina NF and I make his treats of foods allowed to prevent kidney stones. These treats consist of 1/2 cup peas, six stalks of asparagus, 1/2 cup cabbage, one white potato, 1 boiled chicken breast, low sodium chicken broth, 3.5 cups of buckwheat flour, 2 eggs, two tbsp. olive oil, one banana, and four pieces of melon. All processed together, drop by tsp. to baking pan, baked at 350 degrees for 35 minutes. Since there is no preservative, I freeze these and only take out a two day supply to keep in the refrigerator. He loves them!