My Special Zena
by Karyn
(Australia )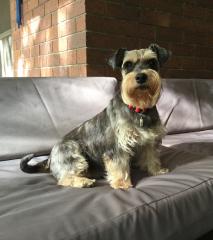 I would like to introduce my little girl Zena, she has just turned 9 but sadly 3 weeks ago she was diagnosed with hermangiosarcoma and we were told she had a month to live. We are heartbroken. This little girl came into our lives when she was just 8 weeks old. What a whirlwind. So much energy. My girl has always loved life and has made the most of every day. She is super smart and remembers everything. She is stubborn, cheeky, funny, energetic but most of all cuddly and loyal.
She became a mum on 3 different occasions and what a great mum she was. Some of her kids still come home for a visit and she loves them all. At least I know her spirit will live on.
Our days together are numbered now and not sure how to go on without her. We love our Zennie.