Pepsi Berlin
by William stacey
(Birmingham uk)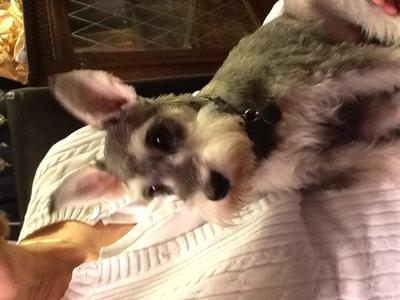 Pepsi Berlin is now 8 months old and developing nicely. A very loving girl with very set ideas on the sequence of daily routine.

Pepsi has always retired to bed in the kitchen without a fuss, bedtime is very important. A couple of small treats then into her bed. Mornings only start after a load of fuss And then breakfast which is not always eaten. She is very good and was house trained in a couple of weeks but because of the shocking conditions since Christmas it was always done in the rain. Poor thing did not see any sun till very recently and is now making up for not going out. We got her a combat suit which only shows her 4 legs head and tail. This was a godsend it saves giving a full bath every time going out in the muddy condition we have had of late.

She is salt and pepper miniature schnauzer and has very striking markings and was referred to as like a teddy by most people. Our last dog was an Alsatian bitch some 10 yrs previously so to choose a Schnauzer was like chalk to cheese but we are thrilled because she is so clever and preempts everything and is so knowing. Best dog I ever had but I wished she could be more obedient so give her time, she is still a pup.