Wilma the Rescued Dog
by Erica C
(Toronto, ON, Canada)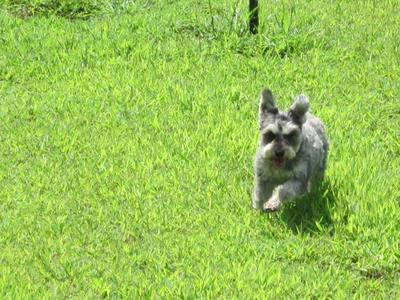 wait for me....i'm coming
Wilma was adopted from our local humane society. Our family had to fight for her, because 4 other families all wanted to take her home. The adoption counselor was very serious and a bit bias on who would be the new family. The counselor had fostered Wilma weeks before she was released for adoption and was particular who she wanted to adopt her. Needless to say, we were approved on her adoption. She is the love of our lives and we could never imagine a life without her.

Wilma is a beautiful spunky 4 year old female Miniature Schnauzer. She was a mummy before she came home with us sadly her babies are gone. Not sure, if the former owner sold the pups and left Wilma at the humane society or maybe it was a life style change and she could not go with them. She has the exact same birthday as her human sister, me. Only I am 25 years older than her. I'm certain we are meant for each other.

It is my family's first time owning a Miniature Schnauzer. We have to say she has the perfect temperament for our family. She is sociable with our friends and family once we introduce them. Extremely alert to strangers coming to the door she will bark and growl to warn us. She absolutely loves to be a family member we take her out with us everywhere, well almost everywhere they accept dogs.

Wilma has adapted to our home quickly sleeping all over the place couch, floor, and blankets most importantly in my room with me. Her favorite toy is a stuff less giraffe her BFF and she does not go anywhere without it (you can see it in the background of the pictures). She loves to chase her squeaky ball, but gets bored easily and abandons it. Because she would much rather hunt for rabbits... we live on a farm. Her favorite game is tag she will chase you down and in return expects you to chase her. I think one of her favorite activities is hunting for rabbits she will spend hours sniffing and pointing even when she is suppose to be going to the bathroom.

As much as we love our new family member, she is no angel. I have a bear I received from graduating from University sitting on my drawer. My bed is high she is able to jump up on to bed and pull the bear off. She is obsessed with this bear. Normally we discipline her sternly and she will not do it again, but I have disciplined her numerous times and she still goes after this bear. Literally, every day she has to touch and drag it down the hall only to abandon it minutes later. Ms. Wilma also has an attitude when we discipline her head will go up and she will only look at you from her peripheral vision. She will never look straight at you. This is a sign of disobedience and stubbornness so we also work on this constantly. She is smart, she knows she has done something bad and will sulk after being disciplined. Truthfully, it breaks our hearts to discipline her, but we stand together and put our foot down.

In the first picture it was right after our morning walk I picked a flower and stuck it in her collar. She was not happy she tried many times to pull it out. I quickly grabbed my camera and made her take a picture. To an outsider you think "aww she is so cute", but in truth she was not a happy camper. She is not a flower girl but a hunter of rabbits. As soon as I put the camera down she rolled on the carpet to get rid of it. Regardless, this is my favorite picture of her she's so pretty.

Second picture is how she normally lays on her belly stretched out inside the house or outside on the deck.

Enjoy! We are extremely proud owners of a Miniature Schnauzer. We love Wilma so much.

Cheers to all Miniature Schnauzers around the world.