Smokie the Therapy Schnauzer
by Tim
(Greenbelt, MD, USA)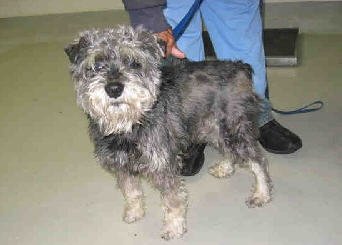 Smokie's shelter photo
We adopted Miniature Schnauzer Smokie from our local animal shelter in 2008. He had been found wandering the streets and was such a mess of hair (see photo) that you could hardly tell he was a schnauzer.

In the interaction room he was a little distracted at first, and we were ready to put him back in the pen and look at another dog, when he sat down and stuck his paw out to shake hands. That sealed the deal and we brought him home the next week. The vet's best guess was that he was 3-5 years old at the time of adoption.

Smolie is such a sweet-natured, friendly dog that, after a basic obedience course, we decided to do therapy work with him. Once a week we visit a local nursing home, where he gets all the attention he could want as he brings a little sunshine to the residents' lives.