About Therapy Dogs

Therapy Dogs provide affection and comfort to people in hospitals, retirement homes, nursing homes, mental institutions, schools, and stressful situations such as disaster areas.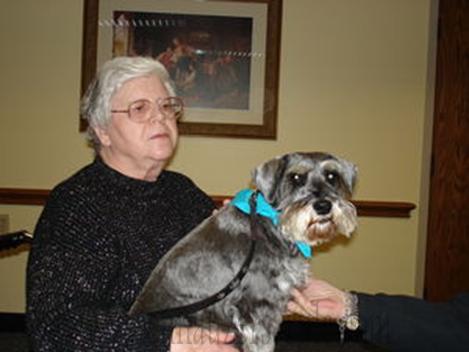 Mini Schnauzer Harley Davidson provides comfort and affection to a patient. Your Schnauzer might also enjoy being a therapy dog.

Our dogs just have a way of making us feel better, right? Whenever you're upset over work, or if you're sick, or just having a bad day, it's the simple loving way of your Miniature Schnauzer that seems to wash all your cares away. It's true!
Animal companionship delivers so many therapeutic effects to our overall being (like relieving stress, lowering blood pressure, and lifting up our spirits), that it just made since to offer them up to those really in need of some cheering up: people sick or injured in hospitals, those alone in nursing homes, retirement homes, those with learning disabilities, and so on... so they too could enjoy these same health benefits.
And boy does it work! These furry little animals always bring love and comfort to those in need. And there's more good news... you receive benefits as the owners of these animals, too. After all, what better way to give back to your community, than by volunteering along with your Miniature Schnauzer, which ends up making someone else feel better and puts a long lost smile back on their face? It's a total win-win situation.
Characteristics of a Therapy Dog
So what does it take for your Miniature Schnauzer to become a Therapy dog?
• Good Temperament: The most important characteristic of is a dog with good temperament. Your Miniature Schnauzer should have a gentle and calm nature.
• Friendly: Your Miniature Schnauzer should be very friendly and willing to accept strangers (ie. meet new people) with confidence and ease.
• Gets Along With Other Animals: Since your Schnauzer will be in places where other therapy animals are visiting, it is important that your dog gets along well with other animals, too.
• Enjoys Being Petted: Dogs used for therapy must enjoy physical contact. Patients want to hold, pet, and hug and these animals so your Miniature Schnauzer should readily accept being touched.
• Canine Good Citizen: Although formal training is not required, it is encouraged and many institutions have their own requirements. To better your chance at being accepted, your Miniature Schnauzer should know all basic obedience commands and complete the Canine Good Citizen Program.
• Healthy: Your Miniature Schnauzer should meet these health requirements: An annual health check-up performed by a licensed Veterinarian, mandatory rabies vaccine, initial series of core Distemper, Hepatitis, and Parvovirus Vaccinations, negative fecal exam, negative for heartworms. And your Miniature Schnauzer should always be bathed and groomed before visits.
A Special Interview with Harley Davidson, CGC
The Miniature Schnauzer Therapy Dog
We were lucky enough to get Miniature Schnauzer Harley Davidson CGC and his proud owner/handler Jerri Williamson, to sit down with us for an inside look at his busy life as a Therapy Dog.
Miniature Schnauzer Harley Davidson during a therapy visit to Jim Thorpe Rehab Facility

The Interview:

1. What made you decide to become a therapy dog?
Mom and I decided that being able to make people smile and laugh would be a very good thing for both of us. I love to meet new people and mom thought that I had the right intuition for any situation and that I would easily adapt to whatever surroundings I would be in.
2. What type of training did you have to go through?
Well, I started training at 2 months and completed my basic, intermediate and advanced training. The next step was to be awarded my CGC from AKC and in that program they discussed Therapy Dogs. So mom decided then and there that I would take the Therapy Dog class offered and then I was evaluated to see if I would be accepted as a Therapy Dog.
3. What type of tests did you have to take?
In the CGC test you have to do basic obedience commands, meet strange people, and have a three minute separation from your handler.
In the Therapy Dog class I had to learn to be around medical equipment, loud noises and ignore food temptations. Food was put on the floor and I had to walk around and over the food using the "leave it" command.
When I was evaluated, I had to successfully complete all the above commands but the temperament test was #1. Mom handed me over to the evaluator where I had to be calm, enjoy being petted, accept my paws being touched, my ears pulled and not squirm over the sounds of a loud squeaky toy.
4. Do you have to be certified?
Our Therapy Dog Foundation does not require that you be CGC awarded but you must be certified by the evaluator.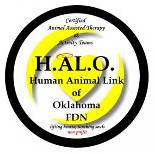 5. What types of places do you usually visit?
Our foundation, H.A.L.O. currently visits hospitals, nursing homes, schools, libraries, juvenile facilities, VA centers, physical rehabilitation centers, children with severe physical disabilities and hopefully will soon be going to Childrens Hospital.
6. Describe what happens on one of your hospital visits?
Well, when I arrive at the hospital we usually start on the top floor. I go to the nurses station to see which rooms would like to have a visit. I spend quite a bit of time with the doctors and nurses, as they really enjoy me too!
I have two Critical Care Units that I visit and mom holds me up so that patients can pet me. In regular rooms, if I am invited, a towel is placed on the bed and I will lay next to the patient for petting. I also take time to visit with those people in the waiting rooms so that family members can pet me. Me & mom take the time to answer lots of questions they may have about what my job is. Many people are quite surprised that I am allowed to visit the Critical Care Units. Actually, after my very first visit to a CCU, a nurse came down the hall to let us know that it was the first time a patient had smiled since arriving. I can't even put into words how wonderful it is to be able to make such an impact on someone.
7. What advice would give someone else considering this work?
If you feel your Schnauzer (or any pup you own) would be a good candidate for Therapy Dog work, check your local training facilities or simply go online to see what groups are active in your community. Then contact them to find out what their requirements are.
8. What do you like best about being a therapy dog?
Well, mom and I working together as a team would be number one and then how our visits make everyone smile. And if my visit makes the pain or fear for a patient go away, even for just a minute, it's so worth it.
9. What difference have you made in the lives of the people you meet?
People get a chance to tell me about the pets that they have waiting for them at home. I also volunteer for a Hospice and on Sundays I go to a nursing home. When I arrive the residents are already waiting for me and its great to see them smile or just relax when they pet me. Residents with dementia are able to calm themselves down upon my visit and some are even able to remember the pets that they use to have. We have one dementia patient that will only speak to mom and me and no one else. The nurses are always amazed when this happens.
10. Any further information you want to share with us?
Well, it doesn't matter whether you are a purebred, mutt, or a mixed breed, if you feel your dog possesses the characteristics mentioned above then go for it! I always leave with my tail wagging and mom with a smile on her face. We know we've made a difference to those we've visited.
The medical community now realizes how many wonderful benefits there are to pet therapy. You will be able to decide which area of assisted pet therapy that both you and your partner will be best suited for. It feels great to give back.
~ Harley Davidson, CGC Therapy Dog
As a member of H.A.L.O. Miniature Schnauzer Harley Davidson not only enjoys his work but takes pride in what he does. "Lifting Hearts; Touching Souls"
| | |
| --- | --- |
| Harley's Therapy Badge & Gear | Harley at Jim Thorpe Rehab |
| | |
| --- | --- |
| Harley puts smiles on faces | Harley in his therapy vest |
H.A.L.O. currently has 78 dog teams, 2 quarter horses and one miniature horse that are active in the foundation with more pets being evaluated everyday! To learn more about this wonderful foundation that's making a difference in the lives of the youth and elderly experiencing life's hardships, please visit their website:
H.A.L.O. Human Animal Link of Oklahoma FDN
note: Therapy dogs are not the same as Service dogs. Click here to learn more about Service dogs
Search Schnauzers-Rule.com
Custom Search
"Knowledge Share"... If you found this article helpful and informative, please share it with your dog-loving friends by clicking on one of the share links (like facebook, twitter, and google +1) located at the top right or bottom of this page.

---

Go from Therapy Dogs to About the Miniature Schnauzer on Schnauzers Rule
Go from Therapy Dogs to Miniature Schnauzer Training
Related Topics:
★ Service Dogs
★ Canine Good Citizen
★ Dog Obedience Training