Dog Tricks

These fun and easy dog tricks will have your Miniature Schnauzer entertaining your family and friends in no time.

The Miniature Schnauzer was originally bred as a farm dog. It was up to him to chase out the rats, squirrels, and vermin from the family barn. He needed to be alert, able to keep focus, and be ready to act fast, in order to be successful at his job.
So, unless you live on a farm where your Miniature Schnauzer is getting the opportunity to do his job - it's really then, your responsibility to provide for your Miniature Schnauzer the mental stimulation and challenges he requires.
And, as a matter of fact, your Miniature Schnauzer will look forward it!
Teach Your Schnauzer Tricks
Miniature Schnauzers are the perfect dog breed to train because they are naturally smart. They love to figure things out and even become quite impressed with themselves when they get it right. And if you offer up a doggy treat as a reward - "Hey, that's just a bonus!"
But most of all, the Miniature Schnauzer loves being the center of attention and he loves pleasing his owner. And the perfect combination offering both of these pleasures to your Miniature Schnauzer is:
Trick Training!

So, if you're ready! Get your Miniature Schnauzer and let's begin.
The following pages will cover everything you need to know in order to be successful in training your Schnauzer dog tricks: Positive Reinforcement Training, Training Tips, Dog Training Supplies to the actual trick lessons. (see the "Miniature Schnauzer Dog Training Series" below)
Here's just some of what you'll learn:
Training Tips - Understanding timing, consistency, repetition, and other dog training tips will help speed up your dog's learning process.
Dog Behavior - Understanding how to communicate with your dog so you can shape your dog's behavior dog behavior to achieve a desired outcome.
Dog Obedience Commands - Every dog should know basic obedience. These 5 commands will make your dog more enjoyable to be with and help keep him safe.

Advance Obedience Commands for Dogs  - These 4 dog commands are great to teach dogs and will come in handy in many different situations.

Cool Schnauzer Tricks

Cool DOG Tricks II


Cool Schnauzer Tricks III

And we'll be adding more dog tricks so check back with us. In the meantime, check out: 101 Dog Tricks: A Step by Step Activities to Engage, Challenge, and Bond with Your Dog.
It's the largest trick book on the market and has full-color photos of each trick so you can start training your Schnauzer immediately. No special tools or knowledge of specific training methods are required to begin.

And remember, trick training is a great way to bond with your Mini Schnauzer and will help keep him both mentally and physically challenged.
Dog Training Series
Don't Wait. Start Training Your Dog Right Now!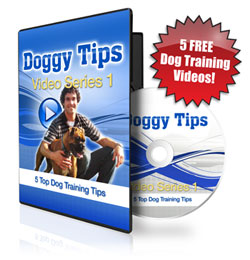 You can start training your dog right now with this free video series by a professional dog trainer and behavioral specialist.

---
Go from Dog Tricks to About the Miniature Schnauzer on Schnauzers Rule