Sent from Heaven
by Laura
(Illinois)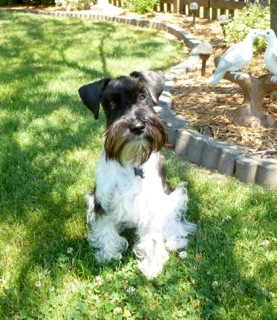 Baxter at 6 Months Old
In January of 2012 I lost my 14 year old best Schnauzer friend, he waited for me to return home so he could be in my arms for his journey to the Rainbow Bridge, it was a most beautiful moment. To think these little Schnauzers can be so loyal, even to the end. Needless to say, my last child, whom I had a very close bond with, moved to his own place just days before this, so now my home was extremely empty. My husband works nights and it was the quietness that I couldn't handle. So in late March I decided I needed a new pup, of course the only breed I considered was a Schnauzer.

So the search began and through many hours and many tears, I found my Baxter. He seemed to have my name on him, like he was waiting for me to find him, the last pup left of a 5 pup litter. It all fell in place, the breeder just happened to be traveling to an airport to deliver his sister and this airport trip went right past my house. The breeder was more than thrilled to stop by with the pup so I could get acquainted. As I said, this was meant to be. It was love at first site, I played and cuddled and my heart leaped for joy.

So that is how my Baxter and I came to be. Since then, he has been through beginning, intermediate and advanced obedience school, graduating all with honors, I am so proud of him. He is such a delight, loving to go on walks, the longer the better, tug-o-war is his favorite game, and soon he will begin his journey at agility. He has so much energy, I know he will master that as well. I also learned something new about the history of the mini schnauzers, I discovered the history of the parti-colored, the ones that seem to have been forgotten. Baxter is a black and white parti-colored Schnauzer, he is not a mixed breed, he is AKC registered with full pedigree papers, and let me tell you, he is ALL SCHNAUZER! This is a color that in my opinion has been swept under the rug, these are gorgeous dogs. For those breeders who still breed these, thank-you!

Baxter is now 9 months old and I hope God blesses me with the joy of sharing a very long life with him.