Poptart and Olliepop
by James Smith
(Richmond VA)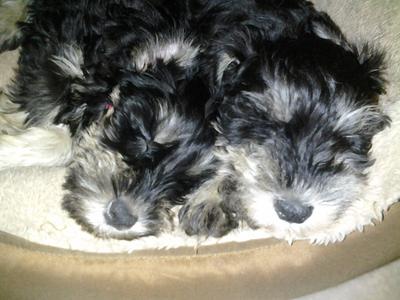 Poptart and Olliepop at 8 weeks
Back in 2012 I lost my beloved Schnauzer "Spanky" at the ripe old age of 18. I was devastated by the loss and after about a year had gone by I decided it was time to replace the love I had lost when he died.

After many hours of searching I finally came across a website with a picture of a Schnauzer pup that was almost identical to "Spanky" and decided that he was the one. While scrolling through the other pictures of puppies from his litter I stumbled on another picture of a female that was almost identical to him. I mean every shade from white to black in the exact same locations. They were truly twins! Of course, I decided to purchase both of them.

Popeye aka "Poppy" was the quiet watcher at first. He observed every little thing from a distance. He was somewhat skittish and shy. After a year of love and attention he is now the most alert, loving and protective dog I have ever owned. He has become the dominant dog in the household.

Olive aka "Ollie" was the investigative and very outspoken puppy always craving love and attention. She was always in the middle of the action. After a year She howls and practically sings when she greets you at the door and truly has the most vibrant and unique personality of any dog I have ever owned.

These two precious dogs rescued me from the sadness and loneliness I was feeling and I love them more than anything. Schnauzers truly rule!