Three Miniature Schnauzers Gus, Lacy and Andi Kay
by Lisa
(North Carolina)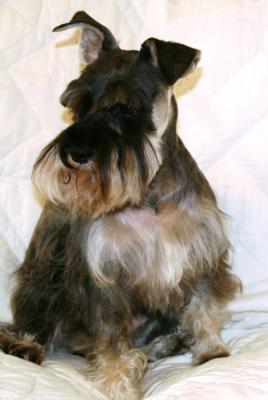 Miniature Schnauzer Gus
Gus was our first, Lacy our second and Andi Kay is our new baby. Gus is 5, Lacy is 4 and Andi Kay is 5 months.

A friend of mine got a mini-Schnauzer and invited me over to meet her and play with her. It was love at first sight! I had to have one, which led to two, which led to three...........

In January of 2010 Gus and Lacy produced a litter of six beautiful healthy pups who have all found wonderful forever homes. I enjoyed the puppy process so much and can't wait to have more. There are no words to describe how much I love and adore my babies.

My first, Gus, helped to heal my heart after losing my father, my one and only sibling moving 1200 miles away, and my husband leaving me for another woman after 15 years of marriage-and all of that in the span of 18 months! Gus helped to pull me through it, heal and move on with my life. When he was 7 months old, he went with me by airplane to visit my brother. My brother fell in love with him and had to have one. So now when my brother comes home for a visit, we have a house full of schnauzers and we just have a blast.

I have taken mine to obedience classes where we just have a great time together. I love weekends so I can be with my babies all day. I hate leaving them in the mornings to go to work. Schnauzers truly are a gift from God!