Miniature Schnauzer Neko
by Tanya
(Oregon, US)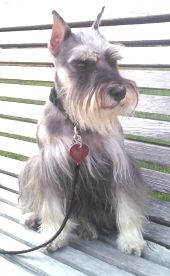 Miniature Schnauzer Neko
My Schnauzer's name is pronounced Na - ko, with a long A. It means "cat" in Japanese. I adopted her when she was six years old. After speaking to many people who own Miniature Schnauzers, I find that Neko seems to be a little smaller than most dogs of her breed. Size doesn't matter, for she is the dearest, most loyal dog I have ever owned. She is very oriented to her routine and will let me know if I am late when it comes to meal time, play, or her walks.

When I first adopted Neko, she was on one of the more popular dry dog foods. She has a sensitive stomach and problems with a few allergies, so I decided to wean her off of the dry food and cook her meals. She gets cooked chicken breast and a variety of raw or barely cooked fruits and vegetables. To insure that she is getting the proper vitamins and minerals she needs, I give her a nutritional supplement.

Neko and I have a strong bond. I take her most every place that I go except for work. When I have to go to work, I put her in a kennel. If I don't, she shows her disgust at me leaving by getting in to mischief.

Before I adopted Neko, she was taught by someone to sit and hold up her one paw when she wants something. It is the cutest thing! She has her favorite toys and she knows them by name.

My schnauzer is not a barker. There are times when she will get excitable and bark but she is mostly very quiet. If she is at home and hears something she doesn't like, she has a low growl that she will use to let me know.

To sum up, I never knew that such a small dog could be so intelligent and be packed with so much love and loyalty.