Miniature Schnauzer Oskar
by Pam
(Waterford, MI, USA)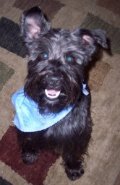 Excessive Handsomness
My name is Oskar, I'm 5 years old & I'm excessively handsome. Of course being a miniature schnauzer I can't really help it now can I? I love to blog and have one of my own, www.OskarsBlog.com and one for all pet bloggers, www.PetBlogsUnited.com.

You can see in the pictures that when it is cold I snuggle up next to my personal space heater. It is for warming my personal space only, although occasionally I allow the kitties to use it when I am busy nesting up all of my pillows. I am a champion nest maker and can pile all of the pillows and blankets together to make myself a cozy spot.

When thunder storms come I take my job of guarding the bathtub very seriously, although when there is no thunder I hate the baththub. I'm a very complex schnauzer.

I love to camp all around our home state of Michigan with my people, love to play throw (I don't see the point in returning the toy to my people once I have it), and my archnemisis is the devil squirrel who lives in my back yard.


Thank you for the opportunity to be featured and let me know if you have any questions. Will you let us know when Oskar will be featured? We want to post it for all of my friends to see.