My regular lovely pepper the schnauzer
by Haley Moore
(Country)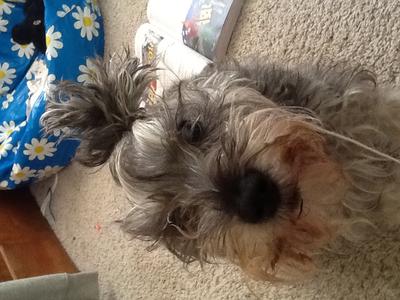 Pepper with pony tail
My dog is the best. If you would give me a thousand dollars for pepper I would pick pepper. she can do tricks such as sit, paw, other paw, lay down, roll over, jump, stay and she is housebroken!!!! I taught my dog all of this when she was 2 she is 4 now we had here for 2 years!!!!!

We love her very much. And she ran away twice but the 2nd time my dad yelled at her and she stopped because she new she was gonna get into trouble. she sleeps with me every night!!(even though dad doesn't allow her to I still let her sleep with me without him knowing.!!)

well she loves to play with us!! She play bites us and runs with us but the bite doesn't hurt. And when I go stay all night with someone she seems sad and jumps on my bed and lays there for a whole day. i love her very much!!!!!!
Join in and write your own page! It's easy to do. How? Simply click here to return to Miniature Schnauzer Stories.