Miniature Schnauzer Gifts
Miniature Schnauzer Gifts that any Schnauzer lover would love to receive... or buy something for yourself and show the world just how much...
You ♥ Your Mini Schnauzer!

The first go-to place when looking to purchase something for a Schnauzer lover online is Amazon. Click here to see the collection. They have everything from Apparel, Accessories, Books, Calendars, Caps, Jewelry, a lots, lots more!
And the Bradford Exchange Schnauzer Lover's Collection on AMAZON  is full of irresistible Schnauzer themed specialty items.

Mini Schnauzer Garden Flags
One of our favorites are these weather and fade resistant Schnauzer Garden Flags. Suzanne Renaud's artwork really captures the adorable expressions of the Mini Schnauzer.

Aren't the Schnauzer Garden Flags just too adorable? You can find just about anything on Amazon. Give it a go. Type what you're looking for in the search box below:
More Miniature Schnauzer Gifts
Here are just a few more ideas:

PET COSTUMES
Visit our pet costumes page to find the perfect little outfit for you Schnauzer. And while it's true that most dogs don't like wearing costumes, they will usually keep one on long enough for you to get a cute photo.

If ordering before big holiday events like Halloween & Christmas, be sure to do it earlier enough to make sure the item you want is "in-stock".
Breed Specific Gifts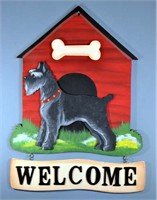 Animal Den offers a HUGE selection of Miniature Schnauzer gifts for the Schnauzer Lover! (including shirts, address labels, calendars, jewelry, mouse pads, socks, ornaments, mugs and many other dog gifts). Their unique inventory of animal and pet products is of the highest quality and selection. Whether you are looking for a gift for your pet, a friend, or for yourself their products will simply amaze you. A great gift shop for dog lovers, indeed!
---
The thrill of the hunt...
There's no greater feeling than getting that perfect item at the lowest price. Check out some of our other pages with great dog product offers:
---
Go from Miniature Schnauzer Gifts to About the Miniature Schnauzer on Schnauzers Rule