Miniature Schnauzer Bob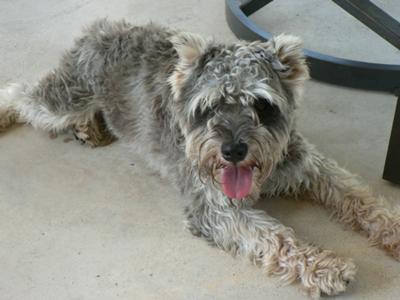 My buddy Bob! The day Bob joined me!
I found Bob minutes after he was posted on Craigslist in July of 2009 and he was my buddy by noon the next day. He had been spending most days tied to a tree and living in a garage. His previous owner claimed he was not good around children, (way wrong) that he was not good around other animals (completely wrong!) that he tended to nip (not!) and yes he barked a lot... at joggers, bicyclists that tormented him and he couldn't get free to chase the deer that were feeding on their property.

Ironically I told my children that if I ever found a Schnauzer, I'd name him "Bob", I just thought the name fit. I found out when I went to meet him his name on his papers was already "Bobby". At that moment I knew it was meant to be. He is the best companion ever. I take him where ever dogs are allowed, he's the best watch dog and now he walks without his leash and is a hit where ever he goes. He went from sleeping outside in filth to snoozing in a king size bed every night... well he gets carried to the king size bed every night!

I don't know how I lived without him, he's the best!!!