Our boy Charlie
by Ann G
(Winston Salem, NC)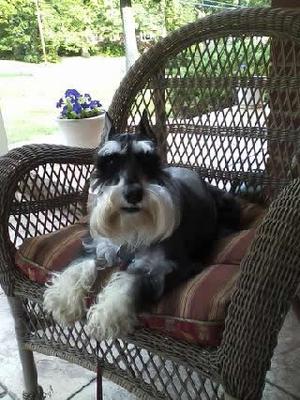 This is our 6 year old black and silver miniature schnauzer Charlie. He is the sweetest and funniest dog we have ever owned.

We have so much fun with Charlie and he makes us laugh every day. He loves to play fetch with his MANY toys. His favorite fetching game is to throw all of his toys and as he retrieves them, he builds a nice neat pile for you to pick up and throw again. This can go on several times. When he's had enough, he lays down right beside the pile of toys!

Charlie also loves sitting by the front door watch life go by. When he spots a bird, squirrel or another dog you know it because he barks his head off! Ah, the life of a schnauzer!

For our anniversary this year, I had an oil portrait of our black and silver schnauzer Charlie painted for my husband. The first photo is the picture the artist used for inspiration.

As you can see, she really captured Charlie's expression perfectly!

My husband said this was one of the nicest presents I have ever given him.