Hugo Stiglitz
by Warren
(NJ)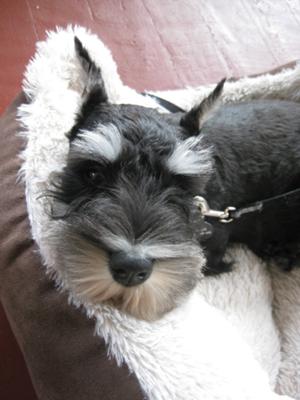 Miniature Schnauzer Hugo
My miniature schnauzer Hugo is the most intense dog I have ever seen. Not only is he loaded with personality but he is as cute as can be, too. Hugo is super smart and a fast learner. It was a snap to crate train him and he's very protective of us. Smiles abound when Hugo is at the dog park. And fear is not in his vocabulary. He absolutely is a big dog in a small dog package.

Hugo does have a few things that seem to upset him though. Example: For some reason he gets upset when I dance in front of him. LOL. He also gets a little nutty when my wife and I show affection for each other. Oh and joggers piss him off too. But I gladly accept him with all his eccentricities. I would not trade him for anything in this world. I LOVE this dog!

Join in and write your own page! It's easy to do. How? Simply click here to return to Miniature Schnauzer Stories.