Mini Schnauzer Photo Contest 2013

Our 2013 Mini Schnauzer Photo Contest has come to an end. We appreciate all of you who shared your dog's pictures and stories with us. Our 2014 Schnauzer Calendar turned out beautifully.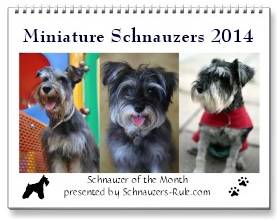 ---
Depending on the quality of pictures we receive, we will try to include as many photos in the yearly calendar as we can (besides the 12 winners). So when you think you've captured a winning picture of your Schnauzer, be sure to enter it in our photo contest.
In the meantime, why not browse through some of the wonderful entries we received last year.

2013 Schnauzer Contest Entries
Click on any of the links below to see the Schnauzer contest entries from other visitors to this page...
Evie Rules 
Some months ago we had to make the difficult decision to put down our 13 year old Shiba Inu, Mandi due to health issues. We couldn't imagine ever loving …
Meet Santa Lulu 
My Miniature Schnauzer Lulu is 2 years old now. She was the youngest among 6 siblings and was the tiniest size girl in the litter. Lulu is a very hyper …
Pax!  
Pax is a 7 month old Miniature Schnauzer. I picked him out of his litter when he was only 2 weeks old and brought him home 5 weeks later. He's been the …
Meet Gracie 
Hello, and I would like you to meet Gracie, named after Gracie Allen. Born Dec. 24 2012. She is a mini schnauzer and full of spirit. She came as an …
Baby Ollie!  
Little Ollie just came to live with me three days ago and I'm already head over heels in love with him! He is a seven week old miniature schnauzer. He …
Otto loves football! 
Otto is a 4 month old male miniature schnauzer. I found him in the newspaper. When I went to see the 8 puppies advertised, I was immediately drawn to him, …
Zigfreid Baron Chowhound 
Ziggy is the master of sounds in our house. He senses when a snack bag is about to be opened. He hears a manual can opener being taken out of a drawer. …
JUMBO (Jumbito) 
Jumbo (Jumbito), the most precious gift I ever had, a little angel disguised in a cute Schnauzer costume. He and his beautiful sister Sasha (a queen, super …
Endless energy 
My little man Reginold is an eight month Miniature Schnauzer. He is getting more grey with each passing month, he's a Pepper and Salt boy. He is my first …
The Daniels' Family 
We have four adorable Miniature Schnauzers. Mr. Bo Daniels, Miss Mini Pearl, Daisy May Daniels and our new addition Miss Honey Boo. She is the Daughter …
Meet Pepper - 14 Years Young 
Say hello to our Miniature Schnauzer Pepper (aka Pep or Peppi). She is 14 years young! Whenever I walk her she gets tons of compliments. Everyone thinks …
Melanie Ann aka Marilyn Monroe 
Melanie came into my life as I was grieving the lost of my first Mini Schnauzer 7 years ago. While surfing the web I came across a rescue site in …
The Rise of Penny-Chan 
Meet Penny! This little lady is a precocious seven month old miniature schnauzer and full of love to share. Penny was adopted by a couple looking to …
Meet me little ankle biter Dallas 
This little guy is our newest family addition. He is a beautiful white Miniature Schnauzer 10 weeks old, we have named Dallas. At any given time …
Sunshine brings us Sunshine 
Sunshine became a a part of our family when she was about 8 months old. We found her by chance when shopping in a tropical fish store. My husband and …
Hector of Niagara 
Hector's breed, the miniature schnauzer, is recognizable in German paintings as far back as the 15th century. Hector August Kress is a five year old miniature …
Meet our 4 generations of girls. 
It all started with Coco and meeting her mom, Lynn. She asked me if I wanted one, and always having had Golden retrievers, I said yes! So when Coco had …
Gracie Lee says "You Got A Friend in Me" 
Hello, and meet Gracie Lee, in this photo she is 4 and a half months old. She is very active,and very quick to get her little nose right in the middle …
Super Simon 
Hello, my name is Simon, mommy calls me Super Simon although when I did some lovin' on her glasses, she called me Sinister Simon--go figure! When …
Meet Skittle our little monster 
Skittle is an 8 month old salt and pepper miniature schnauzer, she was only eight weeks old when she came home. Skittle was really tiny when we received …
Meet Bella Boo, our talking Schnauzer 
Bella came into our lives 5 years ago on Christmas and she is a joy to our entire family. Bella was a gift for my husband and a companion for our other …
Charles in Charge 
Charlie is a 6 month white mini schnauzer. He is full of energy and love. His favorite thing to do is play with the cat, Franklin. When Franklin is …
Meet Knuckles 
Knuckles is a 6 yr. old, 8 lb. white miniature schnauzer. She was the runt of the litter, and I am sure had to fight for everything when she was a baby. …
Playing dress up is NOT for us! 
My name is Sir Bishop and I am a highly distinguished 11 years old male Miniature Schnauzer with cropped ears. I am very wise and noble. I am extremely …
Mr. Blaze 
We got our Mini Blaze when he was 8 weeks old. He is a liver pepper Parti Schnauzer. We waited for his litter to get a special dog with lots of colorings! …
Miss Personality: Effie Lou 
Effie was brought into our family at 6 weeks old in 2009. She is now 3, and will turn 4 in August. She is salt and pepper miniature schnauzer, and she …
Hunter, but you can call me Sir Hunterton of Huntershire 
My name is Hunter but you should refer to me as sir. I am a 6 year old miniature Schnauzer and my human Jay was lucky to come into my life when I was just …
Tenacious Titus 
My very first dog--Titus and I joined forces on Christmas Eve a little over a year and a half ago. We immediately bonded from the moment I picked him up …
Max the Schnauzer  
Max - what can I say about my little baby girl? I have had my sweet miniature schnauzer Max since she was 9 weeks old. Now at the age of 4, she just is …
Meet My Little Prince, Bruno! 
My baby boy Bruno, also known as Pup! He came to be a part of my family as a college graduation gift from a friend in May of 2013, and we have loved him …
Sweet little Ginger 
Ginger is a 3.5 years old female miniature schnauzer who became a part of our family in January 2010. She brings so much joy to our family and we can not …
The Life of Riley!! 
Please meet Riley our Mini Schnauzer from Ireland. He is now 10 months old and I tell you this little pup has some attitude. He walks around house and …
Tommy, Play Time! 
Tommy is a two year old Salt and Pepper tall Miniature Schnauzer. We bought him from a breeder in Ely in 2011 (he was born on the 12th February), his favourite …
I want all of them! 
After weeks of waiting and worrying about our Abby and her first litter, the puppies arrived healthy and as cute and adorable as any we could have hoped …
Bianca is in the house! 
Meet Bianca, a 7 year-old female Miniature Schnauzer from Washington State. Spoiled to the limit, but the sweetest girl around. She is always up for a …
Meet the "Fessor" 
Fessor is a pure bred 2 yr old white mini who came to me from a southern rescue by way of a high kill shelter in Memphis. Tn. After losing my 9 yr old …
Christmas Puppy 
So how does this wife and mother running a household of 4 teenage boys and 2 female schnauzers come to actually agree that a puppy for Christmas would …
Get to know my Greta 
This is my Greta, a 4 year old, salt and pepper Miniature Schnauzer. Greta came into our lives at a time when we really needed a pet and she's so much …
Goat Sitter Gracie 
This is Gracilynn, my 3 year old mini schnauzer. She is a bundle of love and affection to everyone in my family - including my Pygmy Goats!! In this photo …
Indie Sparkle 
This is my gorgeous little monster Indie, she is 10 weeks old and loves to play with anything that is dropped on the floor. She gets so excited when people …
Absolutely AdoraBelle 
This is the girl that stole my heart at 4 weeks old and the reason I became a schnauzer addict. The words "How absolutely adorable!" fell out of my mouth …
Mini Schnauzer Thorin  
Thorin Oakenshield is a white mini schnauzer who loves playing with his toys. Yes, he's named after the Lord of the Rings characters. He is the 6th schnauzer …
Say hi to Little Ms. Cookie!! 
Cookie is our loving, caring, hairy little family member. We have had her since she was two months old and she is now 6 months. My husband and I love …
My Kingston..Survivor 
I've loved schnauzers since I was little girl and my aunt bred and raised them. So when it came time for me to look for a dog, a schnauzer is what I wanted. …
Pip: A Carriage Dog 
Pip means "horseman" in the Celtic language and was named so, because we are carriage drivers and Pip will be our next carriage dog. He will ride with …
Little Ben 
Ben is a nine month old miniature schnauzer, he was only four weeks old when he came into our lives. Ben was tiny and ended up having a stomach problem, …
Sweet and Adorable Sue 
This is my ten month old baby, Sue. I always wanted a schnauzer, so my husband brought me Sue for my twenty first birthday. She was six weeks old when …
Ruby Duchess of York 
My name is Ruby and I am almost one year old now. I cried when my new parents took me away when I was a puppy because I missed my brothers and sisters. …
"Orbit" My Main Man 
Orbit is more than a dog he is "The Man". My son Steve, who passed away almost 5 years ago gave Orbit to me to just watch over me and that he has done. …
Meet Adorable Mr. Gomer Pyle Jones! 
We are true Schnauzer lovers! We got Gomer when one of our Schnauzers passed away as our other Schnauzer, Max, needed a companion. Gomer was the only …
Schooner on the loose! 
We rescued our mini-schnauzer from a rescue in Southern California almost one year ago. We named her Schooner. She needed a little bit of on/off leash …
East Coast Schnauzer Babies 
Here is a photo of our miniature schnauzer babies. We raise both Giant and miniature schnauzers and absolutley love the breed. Our Miniature Maxx is CGC …
Adele aka Ms. Addy 
Adele is approximately 6 years old. We just adopted her in January, but she is truly already a member of the family. We adopted her from National Mill …
Mason, one special pup 
Mason is almost 7 years old, you would never know it by the way he is, still full of energy like day one. Mason has been my savior in so many ways. He's …
Princess Sookie 
I had wanted a dog for a long time but i am alergic to most breeds. I would often look online just to see the beautiful dogs and of course yearn for my …
Gracie Griffiths 
Hi. My name is Gracie. I am an eight month old Miniature Schnauzer, and I live in sunny Cyprus. I have grown fast since Mummy and Daddy picked me in Greece …
Schatzie Bella Pooper Poo!!! 
Schatzie Bella is more than just your ordinary dog. She is a hand full but it's all worth it. She wants to be the boss of the house, but her older brother …
Meet Schnapps! 
Schnapps is 8 years old and he has been our sweetheart since he was just a 6-week-old puppy. He chose us by running up to our son and untying his shoelaces. …
Meet Our Little Teething Terror 
This is baby Khalipa! His name was chosen by my boyfriend's 9 year old daughter who is a Crossfit fanatic as much as we are and was inspired by one of …
And Then There Was Stormey Jo 
And on the 8th day, came Stormey Jo! Being a Miniature Schnauzer owner and lover for 22 years, I guess I never really thought what life would be with …
Meet Wickkett 
Wickkett is a going to be 10 this year. Welcome to senior citizenship. He certainly doesn't act like one. Wickkett still mounds and bounds through the …
boy or girl?GUESS! 
My mini schnauzer is super. This is the first line I can think of. Super Alert, yet friendly. It is great with dogs, Has a mind of her own, if you force …
Sir loves a lot  
I got Coal when my other schnauzer (Jasper) died on my birthday of a seizure. I wasn't sure I wanted another dog because I had him for 13 years but I …
Resistence is futile... 
We have 2 schnauzers so I couldn't just send a picture of one. Minnie (salt & pepper) and Carlie (chocolate) are the best girls any owner can hope for. …
Miss Missy Forever 
Miss Missy left us in April, and my heart broke in a million pieces. The story of her love however, did not stop, she had more to give. After we …
The Best Friend Ever! 
Our Family has a wonderful Schnauzer named Gus! He is the most special guy in the world, full of fun and loves playing with his toys or your toys, towels …
OMG it's hot mom 
Heidi is hot and has had enough of the blessing of the animals ceremony. She is ready to go home to her nice cool bed and chew her favorite bone and cuddle …
Angel .... My little babe Muppet !! 
Hello ... Angel is a miniature schnauzer, a litle girl of 2 and a half years old, who brings light and love to everyone who has the opportunity to be …
MR COOL
HI my name is Sirbuddy and I am a mini schnauzer. I stay in Detroit home of the lions and tigers . I am 3 years old dec 25. I also have a facebook page …
Meet me, Benji & my pal Rebel..
I'm Benji with my pal Rebel. Mummy took this photo on my First Christmas.. December 2012. I was 8 months old ( I'm now 18 months ).. We are waiting for …
The Howler!
Winston James is 3 years old. He came into our family as a birthday present. He was probably the best ever! He has a little brother that he loves to play …
Miss Emma
We adopted our black miniature schnauzer Emma one year ago. She was born on July 4th 2012 (Independence Day). She has been a wonderful addition to our …
Meet mrs.emerald mc peloss 
Emerald, (also called peloss which means hairy in Spanish) is a very smart and dumb at the same time. Giving him a pill is very hard because he knows when …
Feisty Boy Niko
We started out looking for a companion for our mini dachshund Sasha. She's been going to a local dog park since maybe 4 months old and there are a lot …
Mini Schnauzer Rosita
Rosita, the Chilean that came to the north Rosita is a Chilean salt and pepper miniature schnauzer that came to live with me to Quebec. I came …
Mr. Weasley 
Hello, this little guy's name here says it all. He is a real Mister because he acts like one. First time I met Mr. Weasley, I honestly wanted to name him …
Meet the Von Muir's 
I would like to introduce to you the 3 Von Muir's. First we have Katherina Von Muir, she is 7 years old and ruler of the clan! She is a salt and pepper …
---
Go from Schnauzer Photo Contest 2013 to About the Miniature Schnauzer on Schnauzers Rule

Go from Schnauzer of the Month to Miniature Schnauzer Fun