Pax!
by Stephany Kiel
(Columbus, IN, USA)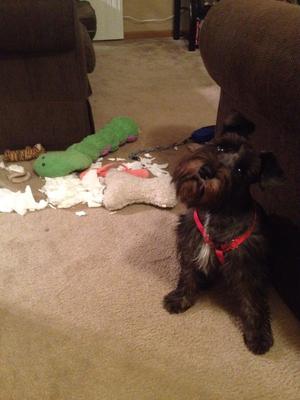 Who made this mess?!
Pax is a 7 month old Miniature Schnauzer. I picked him out of his litter when he was only 2 weeks old and brought him home 5 weeks later. He's been the best dog with the sweetest personality!

He loves everyone and is always the life of the party. In Pax's mind he is a big dog as he has been raised with large dogs as friends. Everyone at Doggy Daycare knows him by name (and by bark!)

One morning though, I walked into the living room and this is what I found! He had piled up all of his toys and an entire roll of toilet paper, my flip flop, and his leash! He had a busy night!!

Pax is always doing mischievous things and giving the most pitiful looks afterwards! I just had to snap this picture when I found him sitting there looking at me like he had no idea what had happened!