The Daniels' Family
by Jean Daniels
(Burlinton, Ontario Canada)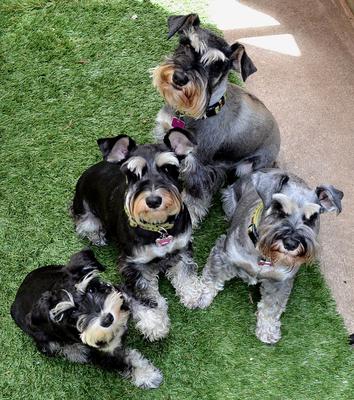 Having a Kum Bah Ya Moment Holding Paws
We have four adorable Miniature Schnauzers. Mr. Bo Daniels, Miss Mini Pearl, Daisy May Daniels and our new addition Miss Honey Boo. She is the Daughter of Daisy and Bo.

I fell in love with the Mini Schnauzer when I went to Grooming School 13 years ago. I just couldn't get enough of those flirty eyes and that attitude!. Well over the years we have had 8 litters, 39 Grandbabies. Yes my grandchildren have paws! Our life would be so empty without the impish shenanigans that the Miniature Schnauzer gives you all the time. They never tire of making you laugh and show you how smart they really are. Some of my grandbabies still come to visit and get a salon treatment from me and it still amazes me that they still remember all of us including the parents.

Some people say that they bark a lot but I know they are just communicating to us in their own language. When you learn to speak dog you really get quite the story from the Miniature Schnauzer. Someone once told me that a Schnauzer will eat anything if it doesn't eat him first. I still laugh because they are tough little cookies. I love you my babies.

Schnauzer of the Month Winner