My Kingston..Survivor
by Jamie Holder
(Huffman, Texas)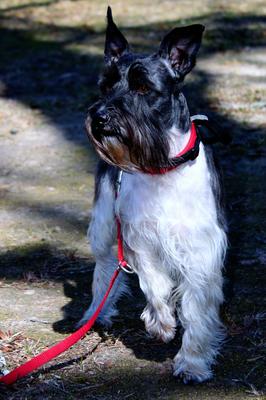 Miniature Schnauzer Kingston
I've loved schnauzers since I was little girl and my aunt bred and raised them. So when it came time for me to look for a dog, a schnauzer is what I wanted. It helps that I have an aunt that's a groomer also, hehe.

I searched for a while to find the perfect dog. Sex didn't matter, but I did want an older puppy or dog. I found a parti colored male schnauzer that was six months old that someone was trying to find a new home for. I drove over an hour to meet the lady to find a scraggly ungroomed black and white dog. Of course, it was love at first sight.

My mother says, "As soon as I saw the ugly little mutt, I knew she would be taking him home."

I've had Kingston almost five years now, and I wouldn't change a thing. He is smart, loyal, affectionate, and great with kids. I have never completely trusted a dog around my nieces and nephews, but with Kingston, I don't have to worry. My poor baby has been their pillow, wrestling and just all around great friend to the kids. One time in play, Kingston put his teeth on my nephew (you know, kind of chewing on him, lol) and my nephew bit him back. Poor King, he yelped, but then kept on playing. My sister told me this story.

Kingston, also never met a dog that wasn't his friend. Anytime he would see another dog, he always wanted to play. Unfortunately, Kingston likes to make a dash for freedom whenever possible.

About 7 months ago, while I was not home, Kingston manage to get out, with help from the kids. He got into the yard across the street from us. They have three pit bulls, that I'm assuming immediately attacked him, since they are very aggressive (I'm not saying this because they are pits, I love pit bulls).

Luckily, my cousin's own pit bull ran over there and managed to distract them long enough to get Kingston away. He suffered a broken leg and a few puncture wounds. He was so lucky and so was I, that they hadn't taken my precious Kingston from me.

I understand that Kingston was in their yard, but I would have been horrified if my dogs had tried to kill another dog. At the very least, I would have offered an apology, which Kingston did not get.

It only took a few days for my boy to be back to his regular self, even with a broken leg.
Unfortunately, he's not quite so friendly with other dogs now. That wasn't the first time that I thought I would lose my boy, but the time he was bitten by a snake is a whole other tale.

Well, that's Kingston's story. As I write this, he sitting next to me and I keep glancing over, just to watch him, so grateful he is still here with me and that he is in my life at all.

He's the schnauzer that took on three pit bulls and survived..


Schnauzer of the Month Winner