Bianca is in the house!
by Fernanda F.
(Mukilteo, WA, USA)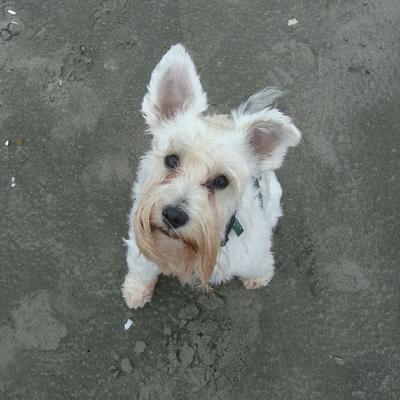 Having fun in Ocean Shores, WA
Meet Bianca, a 7 year-old female Miniature Schnauzer from Washington State. Spoiled to the limit, but the sweetest girl around. She is always up for a walk, and is a real fan of squeaky toys. She has always been a powerful chewer, so we always make sure to have some tough Nylabone bones around. She loves to cuddle and to watch TV too. She loves people, but doesn't feel comfortable around other dogs if she is on the leash.

We've been blessed to have her since she was only 8 months old, and her addition of the family was totally meant to be. We first spotted her at the Everett Animal Shelter in December of 2006, but she was not available for adoption. One month later, we came back to the same location, but she was gone. We visited three other Animal Shelters that day, and ended up in Seattle. To our surprise, she was there and we took her home the next day. We have been battling with some health issues for the past 3 years, but she's been a fighter and has the best support team around. It has been a delight to have her in our lives.