East Coast Schnauzer Babies
by Kimberly Harrington
(Sumter SC)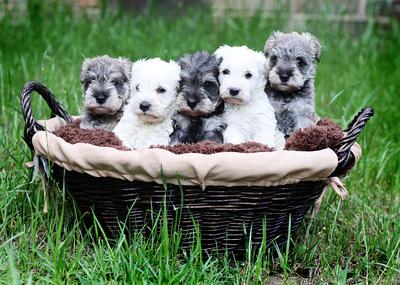 East Coast Schnauzer Babies
Here is a photo of our miniature schnauzer babies. We raise both Giant and miniature schnauzers and absolutley love the breed. Our Miniature Maxx is CGC certified and he visits patients at our local hospital. Everyone loves him. Madison who is mother to the pups is the sweetest lil girl. She likes to play fetch, the only thing is she gets it from the boys and runs from them like "catch me if you can."

They are truly wonderful in every way I would not trade them for all the money in the world. I love coming home every day to them waiting at the door with my husband. I can never tell who is happier to see me... him or them? ha ha.

Madison just had her third litter of beautiful schnauzer babies. They are all white. We also have a litter of Giant pups on the way. I get very excited around puppy time. I just hate it when they find new homes. I just hate saying goodbye. You could not ask for a better breed of dog.