Schooner on the loose!
by Kat
(Claremont, CA)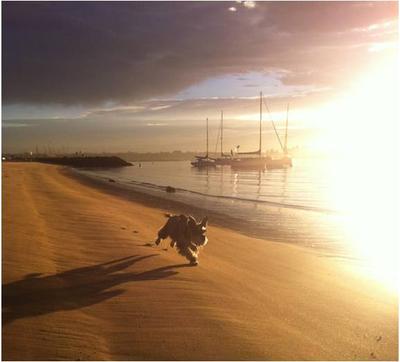 We rescued our mini-schnauzer from a rescue in Southern California almost one year ago. We named her Schooner. She needed a little bit of on/off leash training, but not much! She is very clever and now rolls over, lies down, sits up and paws! She is a wonderful addition to our family and we spoil her very much.

She loves her squeaky toys, we call her babies, as she is very protective over them. One day at my in-laws home, the vacuum cleaner started and she quickly picked up her chicken baby and carried it off to safety in the living room. She also loves cracks in cement. She will spend hours following the cracks in the back yard.

Schooner loves running free, in the park and on the beach. She has also become quite the first mate when we go sailing, always in her life jacket! Having a mini-schnauzer added to our family is a blessing and we are grateful for our little salt & pepper fur baby every day!