Playing dress up is NOT for us!
by Amy Everett
(Peachtree City, GA USA)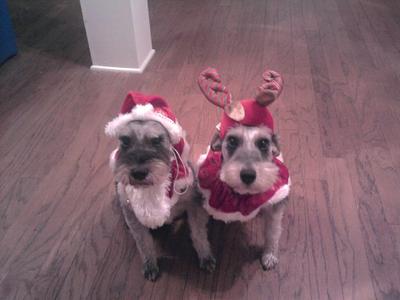 Playing dress up is NOT for us!
My name is Sir Bishop and I am a highly distinguished 11 years old male Miniature Schnauzer with cropped ears. I am very wise and noble. I am extremely social but do so enjoy my time sitting in front of the large picture window watching the world go by.

Sun bathing in the backyard is another one of my favorite hobbies. I was raised with kittens and children so I consider myself to be a well-rounded individual. Notice I did not say dog!

Hello, my name is Buster Brown and I am a 6 year old male Miniature Schnauzer with floppy ears. I am very playful and always happy. We just moved into a new house and there are something called "chipmunks" here. I have never seen such a thing. However I have been spending my days walking around the backyard picking up their trail in hopes they will want to play with me. I am super loving and always want to be in the same room as everyone else.

We are very playful and love to curl up at night with our Mommy. We love to ride in the car too and smell all around at the exciting rest stops. One thing we are not pleased about is playing dress up with her, especially at Christmas. As well let's not sit too close together for picture time. However we don't mind sitting in Santa's lap every year but that's probably because everyone is squeaking those wonderful toys at us.

Mom says we are just like kids, always wanting attention and love to be around family and friends.

We are very pleased to meet you and hope that you will comment on our pictures that Mommy provided.