Meet the "Fessor"
by Rachelle
(Upton, MA, USA)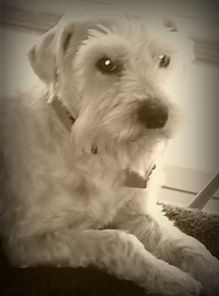 southern gentleman
Fessor is a pure bred 2 yr old white mini who came to me from a southern rescue by way of a high kill shelter in Memphis. Tn. After losing my 9 yr old female salt and pepper, Mattie, in March, I immediately knew that I could not live without a schnauzer in my life. Professor (Fessor for short) was sick with a blood infection and icky worms when he came to me in April. He had scars and stitches and had clearly been through alot.

For the first month he didn't bark, barely ate and hid from everyone and every thing. His back legs were so weak he couldn't jump or climb stairs without help... I was so worried about him but he snuggled with me every night in my bed, and I knew deep down that no matter what, he had a better life here with me than he did or would have had in Tn.

Now, 7 weeks later, Fess is a totally new dog! He barks a funny low "woof" bark and has recently started to "woo-woo". He plays with toys and his favorite Red Sox blanket and has no trouble with the stairs and can even jump on furniture (boo) :) Although at first I was unsure whether adopting was a good idea, I am now convinced that saving a dog from a high kill shelter is a wonderful option. I still miss my Mattie-girl each and every day, but I take great comfort in my snuggle bug, Fessor.