The Howler!
by Beth James
(Plymouth)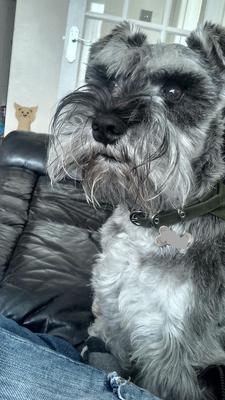 Winston James is 3 years old. He came into our family as a birthday present. He was probably the best ever! He has a little brother that he loves to play tug of war with and play fight.

When he wants to talk to you he actually lifts his head back and pushes out a howl! This will go on until you talk back to him. Another little habit he has is that he constantly wants to sit on someone's lap. He will use his paw to pull your arm and legs down so that he can snuggle into you.

He doesn't like the rain and will refuse to go out in, he will even dodge a puddle to make sure his feet don't get wet.

He loves having his photo taken and is a right poser, he doesn't like the window cleaner and loves to attack the hoover.
Return to 2013 Schnauzer Photo Contest.