Baby Ollie!
by Hillary
(Dyersburg, TN, USA )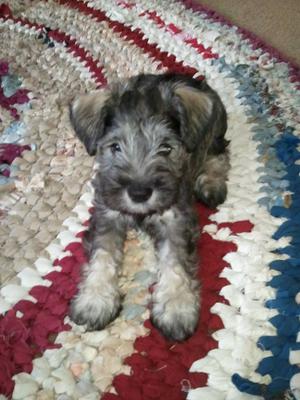 Ollie
Little Ollie just came to live with me three days ago and I'm already head over heels in love with him! He is a seven week old miniature schnauzer. He had to leave his mom and dad but he is doing so well, with getting his shots and not crying!, using the bathroom outside regularly, walking on his leash (we have little problems with that sometimes!), taking baths, chasing balls, and making friends with other little dogs!

If I sit on the floor he will catch my eye and come pouncing over and attack my hands! He's so cute I almost can't stand to look at him.

I am so proud of him! I couldn't have hoped to find a better friend in all my life. He is just like my own little baby and I just love it. I plan to have him tag along with me to work and become the "airport dog!" We are going to have so much fun.